Accompanied descent, self-rescue by a team-mate (device on the harness)
Warnings
Read the technical notice before viewing the following techniques.
It is important to fully understand the information provided in the technical notice before using this complementary information
Mastering these techniques requires training.
Consult a professional before attempting to perform these techniques on your own.

Exceptional use: maximum load 200 kg
These techniques must only be executed by experienced users who are trained in their proper application.
For loads exceeding 150 kg, the rope used (type, condition, diameter...) has a significant effect on the RIG's performance.
Practice with your rope and be especially careful with new ropes.
The RIG allows partner rescue from the harness. The first technique presented is a counterbalance technique, many other techniques exist involving haul systems or cutting the rope.
When transferring the victim onto your working rope, limit the risk of a shock load (minimize the slack between you and the victim). With such significant loads, a small shock load can produce a very high impact force.
Descend to the victim. Connect yourself to his dorsal attachment point.
Install your handled rope clamp and your counterbalance system. Pull up with the right hand while pushing down with the left foot. The victim's rope is thus unweighted.
Disconnect the victim and transfer his weight to your system, then remove your counterbalance system. Add the required braking carabiner (e.g. FREINO) and descend with the victim.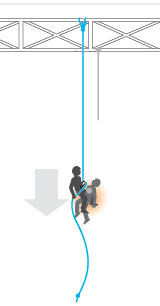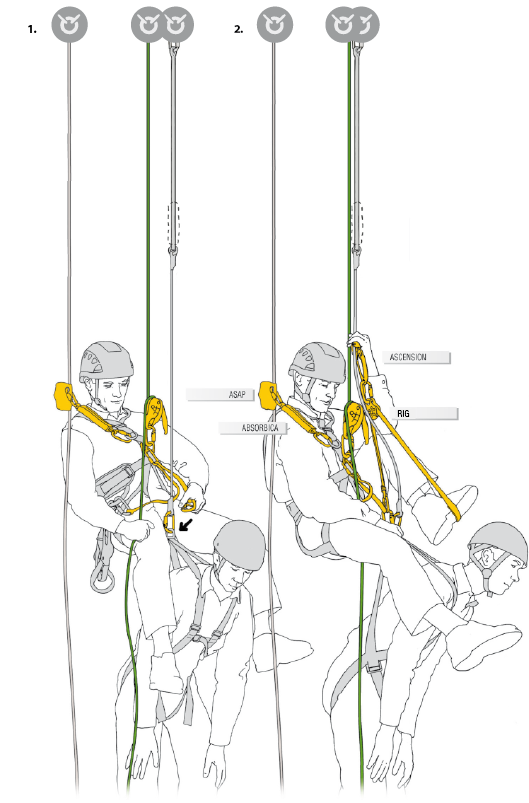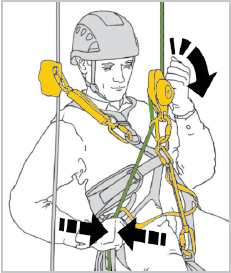 Related products