Arnaud Petit
Giving meaning to my passion : "I like doing things right, even if it takes time. Generally, my most significant projects come to me in a passionate, spur-of-the-moment manner, without planning, shaped by the people I've met and the activities I'm doing at the time. Once this happens, the project provides meaning to my life and becomes the most important thing, as if it had always existed. I want to discover new places, new people, and share what I've understood about, and learned from, climbing. I like meeting other climbers, and the mutual encouragement we provide each other. I like that there's an atmosphere, moxie, and emulation among climbers, even if we're not on the same routes."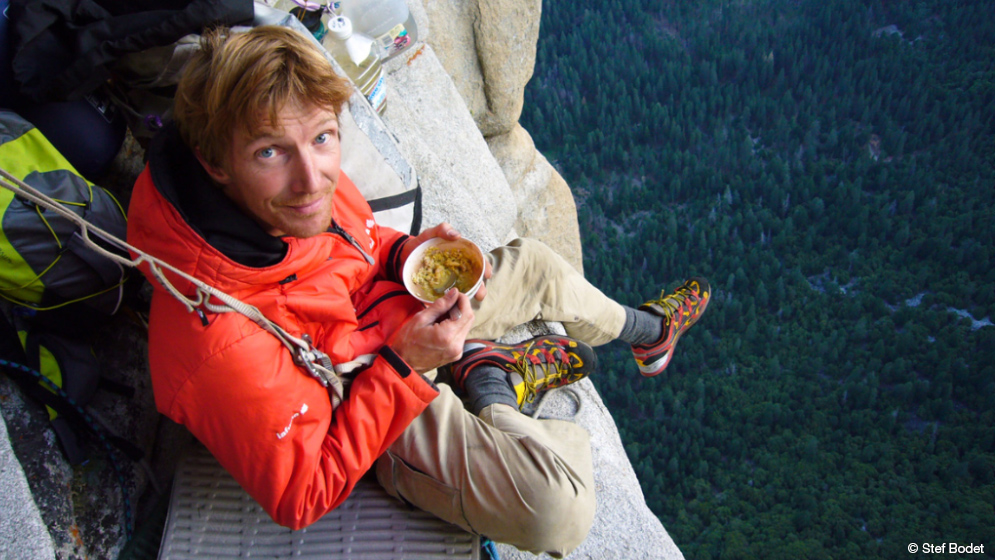 Profile of Arnaud
Date of birth : February 17 1971
Current status : Professional climber, high-mountain guide, author, photographer
Hometown : Céüse, France
Activities :

Rock climbing, Multi-pitch climbing

Training : Master's degree in Physics
Joined the Petzl Team : January 1 1994
Presentation
Exclusive
"The people who inspire me are those who do things passionately with focus, whatever their level.
I discovered climbing with my dad, who took me climbing for the first time when I was around eight. During my youth, I never imagined being able to make a living by climbing. I never saw myself being a technical consultant for a brand, like René Desmaison, nor writing books or organizing expeditions, filming, or giving conferences. Yet only climbing mattered, and I really admired people like Gaston Rébuffat and his books (The Hundred Finest Routes), or those who invented new gear. What I really love is putting up new multi-pitch routes, imagining a line and checking to see if it works, either ground-up or on rappel, depending on the wall. It's undoubtedly a privilege to be the first to send these new routes. There's no rating to go on, which means a good deal of uncertainty that forces me to focus and climb in the moment. I like skirting that limit where I might fall while trying something that seems more than a little uncertain.
I sometimes joke that "I specialize in all disciplines", which really means being average at everything! To do this kind of work, you need willpower, you need to apply yourself, and you also need to be somewhat creative. You need to be able to get some perspective on things and know how to anticipate."
My favorite spots are Céüse, and Taghia in Morocco
"Ceüse, is where I started dreaming about climbing really hard routes. I live right near the cliff, which allows me to take advantage of the site off-season, when it's less crowded."
"Taghia is a place I've spent a lot of time climbing in, and I've developed a connection with the villagers there. It's a close relationship, given the extended periods of time I've lived there."
My motto
"Freedom means knowing how to recognize what's really necessary."
Arnaud's anecdote
"I really enjoyed belaying and supporting Stéphanie when she led Free Rider on El Capitan. I thought to myself how lucky I was to have a front-row seat to watch the love of my life accomplish such an amazing feat."
Photos
Videos
Playlist with Arnaud Petit
Other information
Books
" Parois de légende ". Les plus belles voies du monde (Legendary Big Walls: the most beautiful routes in the world) Glénat 2005. Great book, text and photos, gathers together 45 routes from all over the world: Yosemite, Utah, Morocco, Madagascar, Mali, Algeria, Brazil, Thailand, Pakistan, Canada
" Parois de légende ". Les plus belles voies d'Europe (Legendary Big Walls: the most beautiful routes in Europe), Glénat 2006, supplementing the first volume, photos and topography of 57 routes, ranging from 5b to 8a+, from the Dolomites to Riglos, by way of the Mont-Blanc range, the Verdon Gorge and the Calanques
" Parois de légende ". (Legendary Big Walls), Glénat 2011. Compilation of two previous volumes, with 26 new routes

Magazines
Paris Match: December 2006, eight-page article on Salto Angel, photos by Evrard Wendenbaum, Nicolas Kalisz, and Arnaud Petit
VSD: February 2009, six-page article on big wall climbing as a couple, photos by Arnaud Petit

Films, vidéos
Arnaud and the Petzl team
"My role is twofold :
Pushing R&D to design equipment I dream of being able to use, then working with them to develop it. Motivating the younger generation by sharing my meager experience, and reassure them in what they're doing by providing meaning to their passion
I provide the Team with my overall knowledge of the sport: competition, bouldering, sport climbing, big wall climbing. I'm asked all the time about climbing areas all over the world, and I have indeed had the fortune of visiting many. Team Petzl gives me the opportunity to meet the next generation of energetic and motivated climbers."
Major ascents
Competition
Winner of the World Cup (lead climbing), 1996
European Champion (lead), 1996
Sport climbing
South Africa, "Short Circuit" (8b onsight), 2000
St Martin,Savoy, France, "La Nymphomane", 2005
Orgon, France, "Bronx" (8c+ redpoint), 1996
Céüse, France, first part of "Biographie", 1996
Céüse, France, "Ba Ba Black Sheep" (8c/8c+), 2009
Bouldering
Rocklands (South Africa) "Green Mamba", "Dolphin", "Oral Office", "Barracuda" (8a+) 2009.
Big wall climbing
Corsica, France, "Octogénèse" (300 m / 8b max), 1997, "Delicatessen" (120 m / 8b max), 2001. "Two stout routes up granite slab and tafoni"
Taghia, Morocco, "Le Grand Carnaval" (400 m / 8a), 2004. "I finished this amazing route with Titi Gentet, a long overhanging dihedral that I started with Michel Piola the year before"
Trango Towers, Pakistan, "Eternal Flame" (1000 m / altitude 6240 m / 7a+ and A1), 2005
Salto Angel, Venezuela, second free ascent of "Rainbow Jambaia" (8a, exposed 7b / E7 6c), 2006. "Nicolas Kalisz and I shared the hard pitches; 12 nights on the wall. While on our portaledges, I read what has become my favorite book, Tropic of Cancer by Henry Miller. The shift between worlds in the book and on the wall was mind-blowing"
Taghia, Morocco, "Babel" (800 m / 7c+ max), 2007, route established with Stéphanie Bodet, Titi Gentet, and Nicolas Kalisz
Madagascar "Tough Enough" (400m / 8b+ max), 2008 (Freed the route as a team with Laurent Triay, Sylvain Millet, and Stéphanie Bodet)
Aiglun, France, "Ali Baba" (250 m / 8a+ max), 2010. "A fantastic route put up by Philippe Mussatto and Benoit Peyronard; eight stout, amazing pitches"
Grand Capucin, Mont Blanc range, France, "Voie Petit" (450 m / altitude 3838 m / 8b max), 2010
China "Lost in Translation" (150 m / 8a+ max), 2010 "Four unbelievable pitches on stalactites in a surrealistic cave; route established with Stéphanie Bodet"
Included in this article