How To Build Your Ice Climbing Kit
With the temperatures dropping and snow falling on the mountains, now is the time to get your ice climbing kit together for the upcoming season. Dividing your gear into four different mini-kits is a great way to stay organized and assure that you have all the important pieces.
October 21 2016
Ice climbing
Layering System
Many people react to ice climbing with the question, "But isn't it cold?" While the ice may be cold, the proper clothing can keep you warm and dry. Having each element of a layering system will assure that you have the right clothing to prepare you for any type of weather.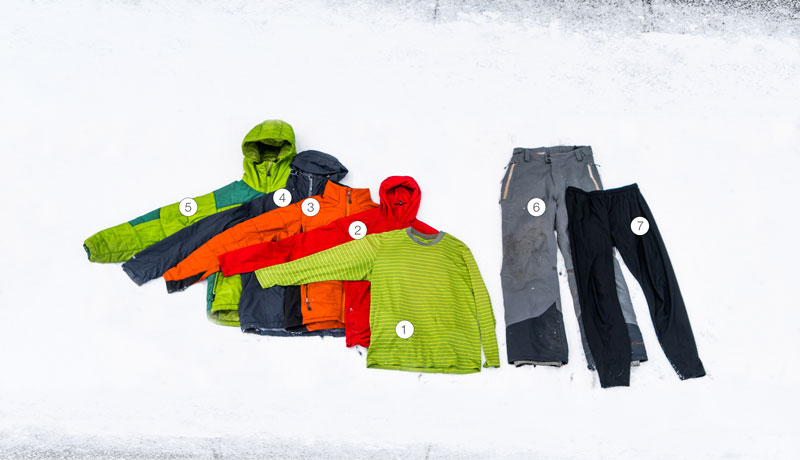 1.  Baselayer: Lightweight baselayers provide the foundation of warmth by trapping heat close to the core and wicking moisture away from the skin.
2. Midlayer: A hooded fleece layer traps your body heat and keeps it close to your body.
3. Insulated Jacket: A down or synthetic puffy jacket acts as an insulated barrier between your warm body and the frigid air around you.
4. Outer Shell: A waterproof and breathable outer shell protects you from the chilling effects of wind and water.
5. Belay Parka: One big, tough, warm jacket to throw on over all of your other gear can make the difference between a miserable day and an enjoyable day.
6. Shell Pants: A waterproof outer layer for breaking trail through snow and deflecting dripping water. 
7. Leg Insulation: Long underwear, fleece layers, or even simple running tights are a great option for keeping your legs warm.

Ice Specific Gear
The must have gear to make ice climbing possible. These tools are what separate ice climbing from traditional mountaineering and come in a wide range of styles and designs. 
8. Ice Boots: A good fitting climbing boot will let you appreciate a great pair of crampons. For ice climbing, you need a boot that holds your heels in place without causing blisters. When trying on a pair of boots it is best to walk around in them, then practicing doing heel raises to see if they properly fit your foot. 
9. Crampons: When climbing water-ice, you'll want a crampon with one or two vertical front points like the DART (mono-point) and DARTWIN (dual-point). Mono-point crampons provide excellent precision for expert climbers, especially on mixed terrain. Dual-point crampons provide a solid platform for beginning or climbing chandeliered ice. The LYNX is a multi-use crampon with moveable frontpoints that allow the crampon to be customized for mixed climbing and water ice. 
10. Ice Tools: Ice tools come in different shapes for different styles of climbing. The gently curved QUARK is designed for near vertical ice and alpine climbing on WI1-4 grades. The unsurpassed NOMIC excels on steep ice within the WI4-7 grades and is the standard for climbers at the highest levels. Designed specifically for the varied terrain of mixed climbing and drytooling, the steeply curved ERGO provides a tertiary grip and radically curved shaft needed to climb long roofs and pure stone. 
11. Ice Screws: Much like cams and nuts, ice screws are placed on lead to protect the leader and are the building blocks for anchors. Learn more about how to place ice screws and their holding power here. 
General Climbing Gear: 
While ice climbing requires a different skill set and technique, much of the equipment needed is common in most other forms of climbing. A beginning ice climber may already own most of the gear needed to ice climb.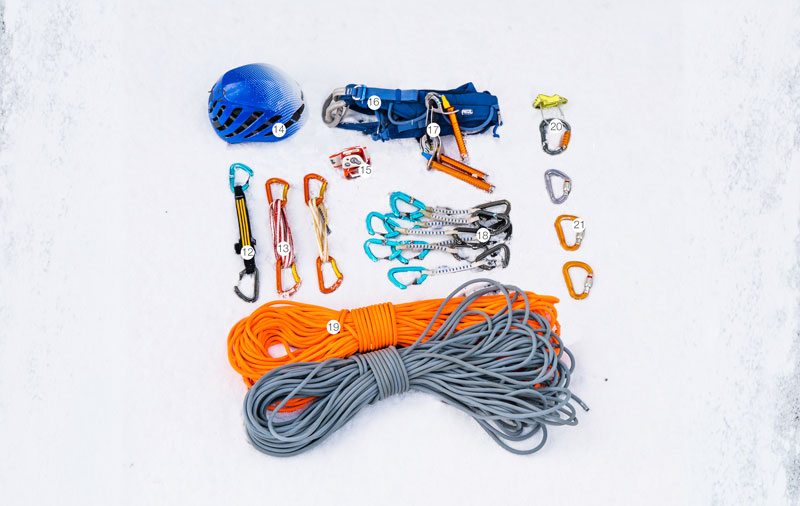 12. Energy Absorbers: Energy absorbing quickdraws, like the NITRO 3, reduce the impact force in the event of a severe fall, deploying at 2.5 kN. Ice climbers will often carry one or more NITROs on a climb for use in high fall factor situations or with marginal screw placements.
13. Alpine Draws: Similar to trad climbing, it is helpful to use alpine draws to extend screw placements or use the slings to build anchors. 
14. Helmet: Ice climbing routinely involves knocking off large, heavy, and sharp chunks of ice. A helmet is a must have for both you and your belayer. The SIROCCO will cut ounces off your kit while the ELIOS features a hard ABS shell. 
15. Headlamp: Climbing during the winter months involves limited daylight hours and requires efficient lighting for approaches, descents, and maybe even the climbing. Both the REACTIK+ and NAO perform well in cold environments and provide enough light for even the darkest Arctic night. 
16. Harness: Climbing harnesses with adjustable leg loops, like the AQUILA and ADJAMA, can be easily adjusted to fit over various layers of clothing worn on colder or warmer days.
17. Screw Holder: Using a CARITOOL on your harness facilitates easy racking of ice screws and ice tools. 
18. Quickdraws: Quickdraws are just as useful for clipping ice screws as they are for clipping bolts. The ANGE FINESSE quickdraws keep your load light and provide a snag-free experience with MonoFil Keylock gates.
19. Twin or Half Ropes: A twin or half-rope system is preferred for ice climbing, allowing you to use lighter ropes, climb longer pitches, and increase the redundancy of the system should one line get damaged. Featuring the GUIDE UIAA DRY treatment, the PASO GUIDE 7.7mm rope absorbs barely any water, saving you from dealing with a frozen rope.
20. Belay Device: The REVERSO is compatible with a wide range of ropes, plaquette style belaying, and rappelling, making it an ideal device for climbing in the mountains. 
21. Locking Carabiners: Having a collection of locking carabiners allow you to build anchors, increase friction on rappels, and set up a plaquette style belay.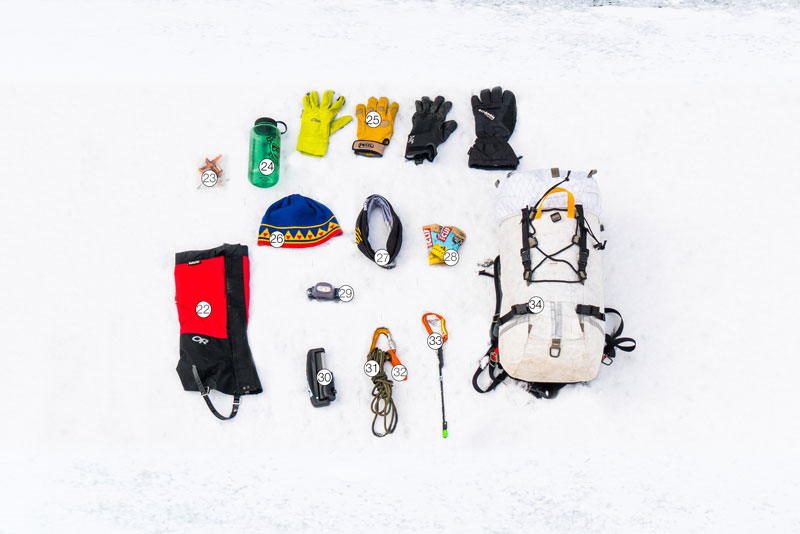 Personal Accessories 
Remembering to carry enough of the smaller items is just as important as remembering to bring your boots or ice tools. The difference between a miserable day and a great day is having access to the right accessories that provide comfort and emergency relief.
22. Gaiters: Even though many boots feature built in gaiters, external gaiters protect climbing pants from wayward crampons. 
23. Spare Points & Tools: Allen wrenches, pick weights, a spare pick, points, and a small file are all the things you need to fix something on the fly. 
24. Water Bottle: Dehydration makes you colder, so it's even more important to stay hydrated in the winter. 
25. Gloves: You can never have enough gloves. Constantly switching gloves as you switch between leading, following, and belaying is a great technique to maintain warm hands and a good grip on the ice tools. 
26. Hat: Keeping your head warm in cold environments is vital for keeping your whole body warm. Choose a hat that can comfortably fit underneath your helmet.
27. Neck-Gaiter: Multifunctional neck gaiters are versatile enough to be used as a beanie, balaclava, facemask, etc.
28. Snacks: Easy and quick calories will keep you fueled during the climb.
29. Backup Headlamp: Keep an extra headlamp in your jacket or pack as a just-in-case backup for the unexpected. The E+LITE is Petzl's smallest dedicated emergency light, while the ZIPKA is a time-tested multi-use lamp. 
30. Screw Sharpener: Sharp ice gear makes all the difference. Touching up ice screws at the crag is now possible with the LIM'ICE ice screw sharpener. 
31. Cordalette: Building V-threads and anchors normally require 10-15 feet of 6-7mm cordalette. 
32. Knife: Rack a SPATHA to your harness or keep it in your pack for cutting cord and damaged rope ends.
33 V-thread Tool: An ice climber's best friend, the MULTIHOOK can be used to make a V-thread ice anchor as well as remove wired nuts and camming devices
34. Alpine Pack: A good ice climbing pack can be worn while leading or following, hugging the body without interfering with your arms. Built in ice tool and crampon carrying systems are a must.