CONSTANT LIGHTING
Comfortable lighting that does not decrease over time.
Non-stop power

Many Petzl headlamps use CONSTANT LIGHTING technology: electronic regulation that maintains constant brightness over a predetermined time.
The BOOST mode gives temporary access to maximum brightness. Finally, when the constant lighting phase ends, reserve lighting offers a weaker light output for many hours, allowing the activity to be completed.
Even with this technology, the initial brightness decreases over a few seconds before reaching the constant value, and the lamp's rated brightness is the actual constant value and not the initial brightness value.
In the case of headlamps with high constant brightness (e.g., 120 lumens), the burn time is automatically shorter than that of a lamp with a lower rated brightness. However, for these models - as with all lamps featuring CONSTANT LIGHTING - the brightness does not decrease during the rated burn time, and then it switches to reserve mode for many hours.
CONSTANT LIGHTING curves at 30 lumens and at 120 lumens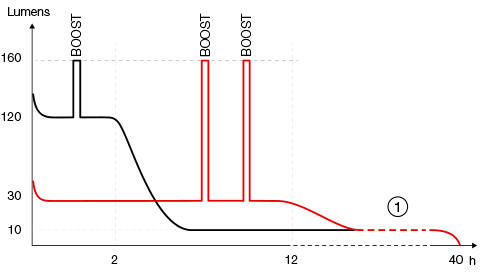 1. Reserve lighting
To obtain a constant brightness of 120 lumens for 50 hours, the equivalent of 75 AAA batteries would be required, translating to 1.1 kg on the head! Petzl recommends paying particular attention to the rated lighting performance - ever more impressive - of certain headlamps.
Petzl headlamps with CONSTANT LIGHTING technology ensure constant brightness for at least 90 minutes in maximum mode because a shorter burn time is inadequate for practical use. This choice of burn time defines the maximum available output.
When more light is needed, some models have a Boost mode, which gives temporary access to maximum brightness.
Looking to optimize energy use, all of Petzl's CONSTANT LIGHTING headlamps automatically switch to reserve lighting mode when the constant lighting phase is over. Reserve lighting mode offers lower light output, allowing the user to complete an activity (duration: one hour to several hours, depending on the model).
The rated brightness values reflect the constant brightness value (and not the initial brightness value that lasts only a few seconds). The rated burn time values are based on constant brightness lighting. Burn time and brightness for reserve mode lighting are specified to one side.
Petzl lighting performance
Petzl opted for maximum transparency in communicating lighting performance:
TIKKA XP performance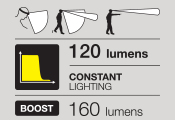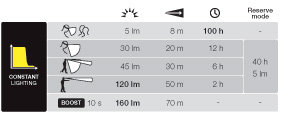 Activities

Hiking, trekking, bivouac, mountaineering...