Jamie Finlayson
I suffer from Ankylosing Spondilitis (AS) it's an autoimmune disorder that causes the body to attack the joints of the spine, also a decade plus of competitive ski racing didn't help. By the time I got surgery, I could barely walk. But with a lot of hard work, stringent PT, and a good surgeon I've been able to climb three V13s, four V12s, and a 5.14c within a year of disc removal and spinal fusion.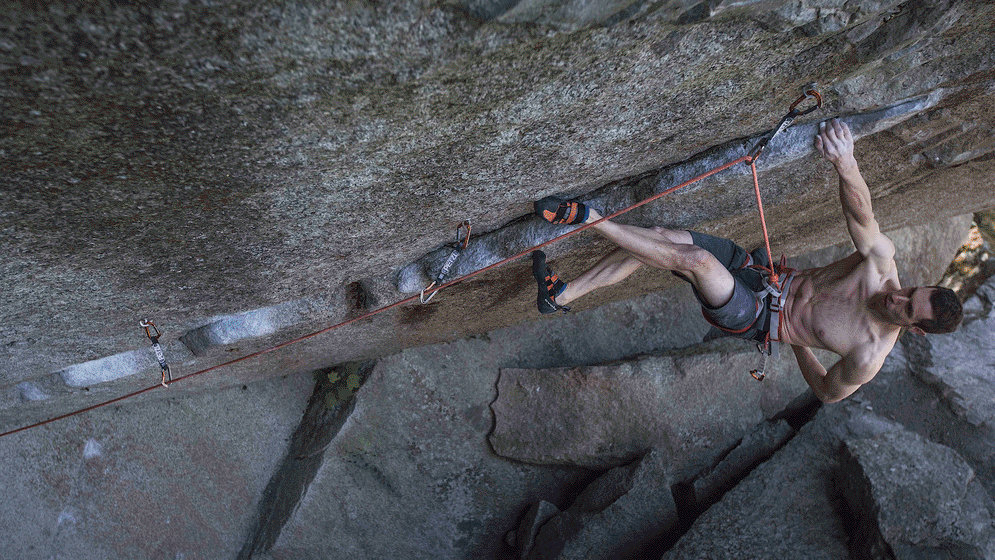 Profile of Jamie
Date of birth : July 18 1980
Current status : Construction Company Owner
Hometown : Squamish, British Colombia
Activities :

Rock climbing, Bouldering

Training : Geographer
Joined the Petzl Team : February 3 2015
Presentation
How did you get into climbing? I grew up as a competitive alpine ski racer and one of my former coaches introduced me to the sport during a summer ski camp at Mt Hood in Oregon. This was a long time ago, 1995! On our day off from skiing my coach took the team to Smith Rock. After that I was hooked! As soon as I got home I bought some gear and never looked back. 
What's your claim to fame? I am a former member of the Canadian Alpine Ski Team, I have a metal plate in my face from a ski crash, I am recovered from spinal surgery in the fall of 2014, I am father, a husband, a business owner, I work full time, I am a passionate photographer, and very obsessed about climbing. 
What is your favorite piece of gear? Petzl Cirro crash pad! So good.
How do you maintain motivation? Motivation is not a problem for me. Resting, now there is my problem!
If your climbing was a style of music what would it be and why? Classic rock, timeless. Hahah 
When were you the most scared climbing? I have had a few close calls climbing over the years. The scariest one was when I was seconding a pitch on the chief in Squamish about 5 pitches up and I popped off. My partner did not place a piece of gear above the crux before the route took a hard left across a big sharp ledge. When I fell the rope ran across the edge cutting the rope more than halfway through the core and I was dangling 5 pitches up. I used up one of my 9 lives on that one. 
Fred Beckey or Fred Nicole? Nicole. I am big into bouldering these days. But I have the uttermost respect for Mr. Beckey. 
Power, enduro, or technical climbing? Power, without a question! 
What's the most challenging part of your training? Balancing my very busy work schedule and family life. Organization and efficiency rule my life. 
If you couldn't climb, what would you do? I do a lot of mountain biking so I guess I would bike more. It is hard for me to envision life without climbing though. 
How long have you gone without climbing? Three months while recovering from spinal surgery. I had a disc removed, a spacer inserted into the disc space, and the vertebrae screwed together in my lumbar spine. 
What's your favorite type of rock? Granite, just because it is close to home, but limestone is pretty fun. 
If you could only have one, would you choose pizza or beer? Beer. 
Do you have a nickname? Maybe but I'm not telling. 
What was your least favorite subject in school? Math! 
Figure-eight or bowline? Figure-eight. 
Describe your perfect day climbing? Crisp cool, spring or fall day, surrounded by friends and family.
If you could go back in time and give yourself one piece of advice what would it be? Work hard, play harder. 
Could you give us two truths and a lie? I love blue cheese. I hate being cold. I have two dogs and one cat. 
What do you do when you're not climbing? I am working running my construction company and having fun with my family.