Cédric Lachat
With his mischievous smile, Cédric always seems to be up to something. The blond Swiss native pursues hard new multi-pitch climbing projects next door and caving adventures on the other side of the world with equal fervor. An indomitable climber without limits, he pushes himself as hard as possible to succeed, but enjoys above all the beauty of moving over rock. Engaging with everyone he meets, Cédric is a conscientious climber like no other.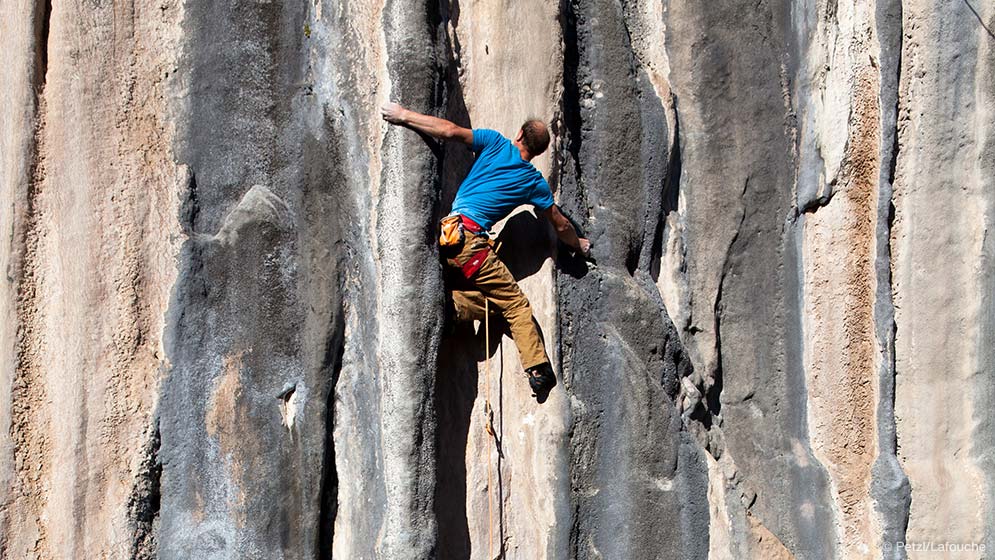 Profile of Cédric
Date of birth : August 17 1984
Current status : Caving instructor and professional climber
Hometown : Grenoble, France
Activities :

Rock climbing, Caving

Training : State-certified caving guide and instructor
Joined the Petzl Team : January 1 2013
Presentation
Accept and deal with it…
"That's my way of thinking. Making decisions at the last minute and going climbing on the other side of the planet is part of what makes me happy and of how I live my life. Climbing is my profession and my real passion. I like complexity and I like pushing my own limits. It's probably due to my experience competing. Long multi-pitch routes naturally appeal to me, since they require a great deal of experience and concentration. I like to be at one with myself, to give everything I've got to reach an objective."
Background
Cédric has been spending time in the vertical world since the age of 10. One day, he followed his big brother on a climb and immediately got hooked: bouldering, sport, or multi-pitch climbing; it's all good! Simply put, his specialty is extreme versatility in every style of climbing.
In high-level competition, from 2002 to 2011, Cédric stood on the podium at almost every event he entered, often taking first place in the bouldering World Championships and World Cup stages. He is a true competitor, not against other climbers but against himself, in order to meet the challenges he is given, whatever the conditions. Only one thing counts for him: succeeding and not giving in. If I learned one thing during all these years, it's that I have to climb with heart and the drive to keep going all the way to the top.
Even if climbing is his main pursuit, Cédric needs more: his thirst for adventure regularly pushes him to go caving, where he feels right at home exploring. On a side note, he loves handling kilometer after kilometer of rope. Clearly his caving showing!
Being a professional climber requires Cédric to climb hard, of course, but also to share his knowledge with other climbers and to stand out from the crowd. Cédric is constantly looking for ways to be different, to innovate. Discovering something new every day is a major source of inspiration, leading him to blend fun and difficulty, all while constantly moving forwards. Like on the major big walls to be freed in the mountains, where there is no fixed protection, and where the approach is long, difficult, and committing. Sharing his vision through unprecedented films allows Cédric to create a connection between climbers in order to move the climbing world forward.
Photos
Key accomplishments
Sport climbing
Oliana, Spain "Papichulo" (9a+), 2011
Oliana, Spain "Full Equipe" (8b+ onsight), 2011
Céüse, France "Le cadre nouvelle version" (9a), 2011
Margalef, Spain "Aitzol" (8b+ onsight), 2012
Oliana, Spain "Chaxi" (9a+), 2013
Van d'en Haut (Martigny, Switzerland) "Van de Panique" (8c onsight), 2013
Pic Saint-Loup, France "Staphylocoque" (9a/9a+), 2014
Films, videos