Understanding the parts of a crampon
From front points to toe bails and linking bars; use this guide to understand the parts and purpose of modern crampons.
November 17 2017
Mountaineering
Parts of a crampon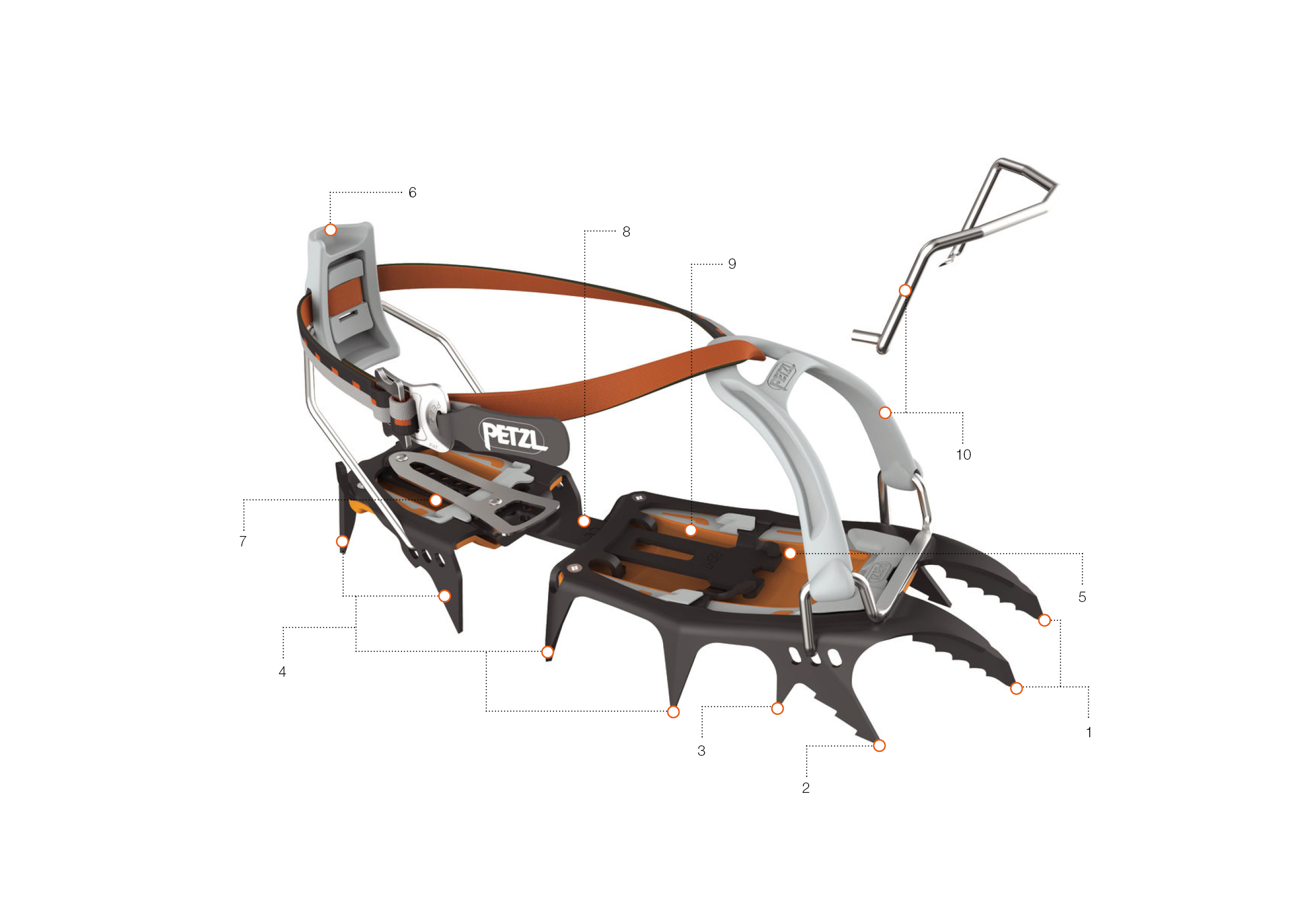 1. Front points
Starting at the front of the crampon we encounter the "front points." First invented in 1929 the addition of points projecting out from the front of a crampon allowed climbers to kick into steep snow and ice for the first time, and eliminated the need to cut steps on steep terrain. Front points come in two configurations and two styles, listed below.

Horizontal vs Vertical front points
Horizontal front points are used when climbing snow or soft ice. Their wide horizontal structure disperses a climber's weight over a larger area allowing a climber to find traction in soft terrain. 
 
Vertical front points are used for climbing hard ice and are shaped like miniature ice picks. Their smaller profiles allow them to penetrate deeper into hard ice, which gives an ice climber a greater stance. 
Mono vs Dual front points
The single point is called a "mono" point and allows for incredibly precise footwork. This is most advantageous when climbing featured ice or rocky vertical terrain.
Dual front points provide two points of contact when kicking for greater stability and increased surface area. Dual front points are often preferred for pure ice climbing, or when climbing chandeliered ice.
2. Secondary points
Behind the front points are the secondary points. The points' shape depends on the crampons' function. Crampons designed for steep climbing feature barbed secondary points that project forward. This style allows an ice climber to press the secondary points into the ice for more stability on steep terrain. Secondary points designed for general mountaineering lack the barbs and project downwards to increase contact with the snow when walking on less steep terrain.
3. Tertiary points
Some crampons feature a third row of points that face backward from the secondary points. These points allow for gymnastic ice or mixed climbing and give the climber the ability to find purchase when pulling backwards with the balls of their feet. 
4. Down points
Crampons feature an additional two or three rows of downward facing triangular points. These points provide traction when standing on ice or snow. More down points result in a heavier crampon that will provide greater traction. 
5. ANTISNOW plates
Hiking through soft or wet snow in crampons can cause snow to stick to the crampon's base. ANTISNOW plates help prevent snow from accumulating underfoot. Petzl makes three versions of ANTISNOW plate.
6. Heel attachment
Petzl crampons come with one of two types of heel bail; LEVERLOCK or BACK FLEX.
7. Heel pieces
The heel piece of a crampon is the rear half of the full crampon unit and feature four down points. Any Petzl steel heel piece is compatible with any other Petzl steel front section. A full crampon is a heel piece and front section connected with a linking bar, toe bail, and heel bail. The aluminum heel piece from a LEOPARD or IRVIS HYBRID is only compatible with other CORD-TEC front sections. 
8. Linking system
Petzl heel pieces and front sections may be linked together by three distinct methods; a BARETTE linking bar, a FLEX linking bar, or with a CORD-TEC system.
The standard BARETTE bar is a stiff steel bar for technical climbing.
The FLEX bar is a thinner flexible linking bar for larger boots and a more natural, flexible, stride.
The CORD-TEC technology uses Dyneema cord to connect the front sections and heel pieces of the LEOPARD and IRVIS HYBRID crampons. This unique technology allows the crampons to be carried folded in half, greatly reducing the space they take up in a pack. 
9. Front sections
Petzl sells the front section (front half the crampon) of the IRVIS, VASAK, SARKEN, DART, and DARTWIN crampons in pairs. This allows a crampon owner to purchase one complete pair of Petzl crampons and update the front sections depending on the type of terrain they plan on climbing. 
10. Toe bails
There are two distinct types of crampon toe bails, FIL and FIL FLEX. FIL bails are compatible with any ski or mountaineering boot that includes a toe welt. At only 30 g a pair of FIL bails weighs less than a single FIL FLEX bail. Weighing 140 g for a pair, the FIL FLEX bail is a plastic basket that will fit over the front of shoes that lack a toe welt. 

Both the FIL and FIL FLEX are compatible across the entire Petzl crampon line and may be switched across crampons to ensure the best fit on the climber's boots of choice. 
---
Need help choosing a crampon?
Click here to learn how to select the appropriate model and style of crampon for your next climb.

---
Understanding modular crampons
Click here for more information on how to modify your modular Petzl crampons.