Tests on the MICRO TRAXION with Dyneema cord of diameter less than 8 mm
The ropes compatible with the MICRO TRAXION have a diameter between 8 and 11 mm. Petzl has noted an increasing use of lightweight cords of less than 8 mm in diameter for hauling or rescue, and has conducted a series of tests to determine the limits of compatibility with the MICRO TRAXION.
Warnings
Read the technical notice before viewing the following techniques.
It is important to fully understand the information provided in the technical notice before using this complementary information
Mastering these techniques requires training.
Consult a professional before attempting to perform these techniques on your own.
Warning: the strength of Dyneema cords varies greatly and can be quite low.In tests with the MICRO TRAXION, certain models of cord fail at less than 2 kN.
Cords behave less predictably than ropes, certain small diameter cords are stronger than others of larger diameter. There can be very significant differences between the test results on two cord models of the same diameter.
Remember: the ascender standards require a strength of 4 kN on compatible ropes.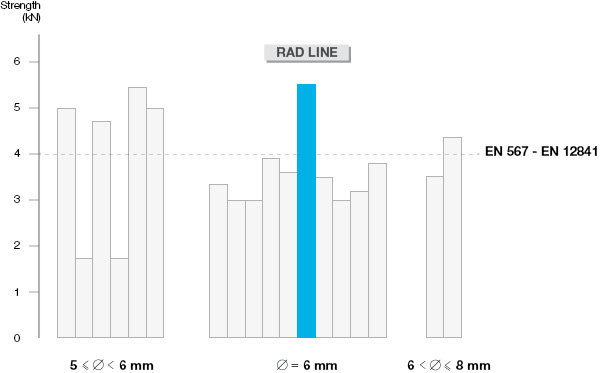 Tear resistance test of small diameter cords with the MICRO TRAXION.
Hauling lightweight loads can be considered with most cords, provided that the user does a favorable risk analysis in the field.
For suspending people in a rescue situation, only Petzl RAD LINE cord is recommended.