Philippe Bence
Particular about equipment: "I don't know why but I was immediately at ease in the underground environment, whatever's down there, no matter what I'm doing. At ease and proficient at rope and equipment techniques and most things vertical. When I was very young, I worked as a caving, canyoning and climbing guide. I made the most out of this to explore in France and abroad whenever I could. Right away I got involved in cave rescue, in charge of the technical training in Gard, then rescue team leader, then technical adviser in Ariège. I have also been involved in several national training schemes and courses in eastern European countries. I am very fussy about equipment; I like everything to be perfect and to have its place so that the technical aspects never become an extra constraint in an already limiting environment! For me, being effective is also about minute practical details. I 'invented' a Y knot aimed at small diameter ropes as well as a strap for the BASIC that is useful on big vertical walls when you are weighed down with kit…"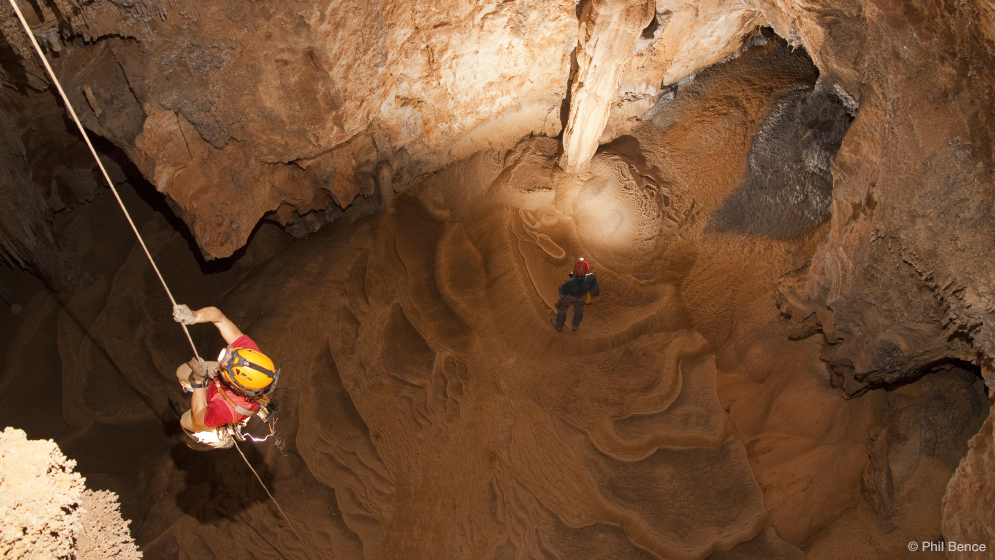 Profile of Philippe
Date of birth : July 24 1969
Current status : Graphic designer, publisher, climber, caver, photographer, director of the EXPLOS festival
Hometown : Ariège, France
Activities :

Caving

Training : Degree in mathematics, climber, caving, canyoning instructor, cave rescue courses, photography and webdesign
Joined the Petzl Team : January 1 2010
Presentation
A passionate explorer
"At the age of 10, I saw a photo on the front of a book that I got for my birthday that fascinated me (a caver descending into an austere, aquatic atmosphere). I thought that was incredible and I wanted to do it! A few years later, I ventured underground with some friends my age without the right equipment... Later, I kept going without a great deal of technical knowledge and luckily without incident. I bumped into some members of a club and I finally learned not to make too many mistakes… From then on I took learning more seriously by discovering other ranges and bigger caves as well as through the organizational side of things. I quickly gained the national qualification and was top of the class in my first training course in 1995."
Photos
Videos
Surprise! Real life starts underground…
"Caving has been the driving force in my life for over twenty years. It provides me with amazing experiences, defining moments and it allows me to journey into unusual places and this particularity is what sparks people's curiosity. It also gives me the chance to meet real people and to get away from the structures of tourism. I can cut myself off from the pressures and constraints of modern life, even if the cave is close to home. I immediately enter into another dimension, without mobile phones, and that does you good! What I like the most is exploration: discovering, inventing (that's what we call it), having the fortune and privilege to venture into unknown territory for the first time. It's hard to describe, you have to live it to feel its strength."
Living it with others
"In caving, like in mountaineering, we subscribe to a tradition and history made by men and women of strong character. In caving, there are many names who command respect for their adventures and exploits. I would count Al Warild among the best, an Australian friend who has been to almost all the biggest pits on the planet and who is still motivated and has the same energy to achieve committed goals after 40 years of activity."
Director of EXPLOS: a festival for exploring other worlds
"I feel very close to people who, like me, are not trapped within one single discipline but are open to exploring other worlds, for example big route sport climbing, navigating a canyon, mountaineering in the Pyrenees, skiing, mountain biking…I love mixing these worlds and communicating what I learn and what I feel."
The EXPLOS festival
"The most important thing for me in organizing these events is to showcase how a passion, whatever it may be, can fill a life with joy and shared experiences. People should be able to live their lives; too many people live on behalf of the powers that be… I would like to show everyone, particularly the youth, the happiness you can get out of this. I invite several organizations from the area every year to freely participate in the EXPLOS festival in order to show our worlds to youngsters and to introduce them to particular life choices and unforgettable personalities. We are trying our best to transmit a message of respect and conservation for our natural environment. As Mike Horn so rightly said, young people are the greatest source of energy for the future. Bonds are made when people meet, whether during the event or on an expedition. For me, the most important media with which to communicate is the photograph. That's why photography is such an essential part of my life. My motto is: explore, share, go further..."
Philippe's anecdote
"I have many anecdotes after all these years, some more amusing than others! However, the most memorable for me was the difficult rescue that we had to carry out with urgency in a stream sink in the Bihor range of Romania in 2002. A violent storm caused a terrible rise in the river's water level. A river of several cubic meters formed and then went underground while a team were down there doing a kind of initiation... We were able to save them but only just. Luck was on our side that day."
The complete account was published in Spéléo Magazine N° 42
Other informations
Books
"Spéléoguide Ariège Pyrénées", published by EXPLOS 2002
Major ascents
"Caving doesn't have any competitions, which is good. It's important to note that underground exploration is a team sport, that we are nothing on our own. Knowledge about the underground environment takes time to acquire and often requires the work of many teams or even several generations of persistent enthusiasts! I have been fortunate enough to have carried out my activity in 17 foreign countries, participating in the discovery of large pits and over 100 km of new galleries in all four corners of the world with my friends."
Lefka Ori range, White Mountains, Crete – "Gouffre du Lion" (1110 m deep), 2008
Sierra Negra, Mexico – "Gouffre Santito" (11187 m), 2009
Picos de Europa, Spain – "Torca del Valle del Agua" (974 m), 2010
Guizhou Province, China – 2008, exploration of big networks such as Shuanghedong, the longest in the country with 128 km of galleries
The Khamouanne karst, Laos – 2004, 2006, 2007, the largest network in the country
Taurus Mountains, Turkey – 2007
The Tatras, Poland – "Wielka Literowa" (800 m), 2000, the first to go right through this cave – 28 hours including approach
Nakanai Mountains, Papua New Guinea – four expeditions between 2002 and 2010
Pyrenees, Ariege, France – "Pit P7" (450 m), "Gouffre du Papillon" (580 m) exploration in progress
Pyrenees, Spain – "Pit A55" (470 m) in the Cotiela range, exploration in progress
Included in this article