Swissway to Heaven, the Legendary Big Walls of Switzerland
A film with a beautiful goal: to make the history, the values, and the evolution of climbing accessible to the greatest number of people while exploring Switzerland. This is Cédric Lachat's project: a real challenge as much for taking photos on the wall as for the ascent of several difficult and legendary lines. Discover the story: Swissway to Heaven.
November 2 2020
Multi-pitch climbing

Cédric Lachat during the ascent of "Wögu", Rätikon
Cédric Lachat frees the route "Yeah Man", 8b+ Gastlosen
 
Switzerland, a Multi-pitch Paradise

Cédric Lachat is proud to have his home-country be the setting for his athletic exploits: "Everyone travels, takes a plane, but there's no point. We have it all right here! Switzerland is a multi-pitch paradise. It's also for the environmental aspect. I told myself that I could showcase my country, that there is no need to travel to the other side of the world."
So, Cédric threw himself into this 14-month long project to climb the five most difficult multi-pitch routes in Switzerland. Here's a list of the routes and massifs, along with his partners:
 
Eiger, "Odyssée", 8a+ with Tobias Suter,
 
Lauterbrunnental, "The Fly", 8c  with Tobias Suter
 
Gastlosen, "Yeah Man", 8b+ with Melissa Le Nevé
 
Wendenstöcke, "Zahir", 8b+ with Fabien Dugit
 
Rätikon, "Wögu", 8c with Nina Caprez
 
Several seasoned climbers make up the film crew: Guillaume Broust as director, as well as Mathis Dumas as camera operator, and Marc Daviet as photographer. 

Filming and Sending, a Challenge

Mixing together what is needed for filming and what is needed for climbing leads to real complexity. Cédric confirmed, "I had to find the right balance between moments where I was taking photos and moments where I was sending the routes. But it's a choice: I cared more about telling the story than succeeding on every route. Making a film and an ascent at the same time brings more authenticity, more natural emotion. But there's also more pressure."
 
When filming, great care must be taken in choosing the team of climbers, as he explains, "Big wall climbing and doing a project is not the same thing as making a film. In addition to being a super experienced climber, you must also be a talented filmmaker, which requires waiting and a lot of patience. It's very tiring. In any case, I really loved climbing with my partners, it was an amazing adventure!"
A Diverse Challenge

To be a climber, producer, and trip organizer demandes a lot of energy. A beautiful adventure for Cédric: "Five multi-pitch climbs with different people, all throughout Switzerland brings a few logistical problems: availability of team members, the right weather at the right time, sending the routes. One of the most difficult aspects was to coordinate everyone. Five projects is a lot!"
 
I contacted many sponsors in order to have the financial resources, which also led to a great amount of pressure. And I felt this pressure until the last minute. I had a lot of doubt. Each sent route was a real relief. But ultimately, we do what we love and I adore organizing projects almost as much as climbing! The role of producing is what I like. I really love the challenge and this project was a big one!"
 

Cédric Lachat and Tobias Suter during the ascent of "Odyssee", Eiger North Face
 
More Than A Climbing Film

Beyond climbing, Cédric wanted to create a connection with those who, years before, were bold enough to imagine and open these legendary lines with very little equipment. In doing so, we find ourselves face to face with Claude Rémy, Beat Kammerlander, Roger Schaeli, or Stephan Sigrist. Cédric explains, "You really have to be daring to ever even think about opening something this hard. The idea was to reflect on how the first ascensionist started out. For example, on the Eiger and without climbing shoes! It's also an occasion to show the evolution of climbing while exploring Switzerland, with a bit of difficulty on these difficult lines."
Mission accomplished! After several months, Cédric could rest his soul having successfully completed this project of grand proportions, with his head full of ideas of other routes to climb or cave explorations to embark upon. Until then, the film Swissway to Heaven will be released in fall 2021.
---
Go Further
Share our passion for climbing, follow us on Instragram!

 @Petzl_official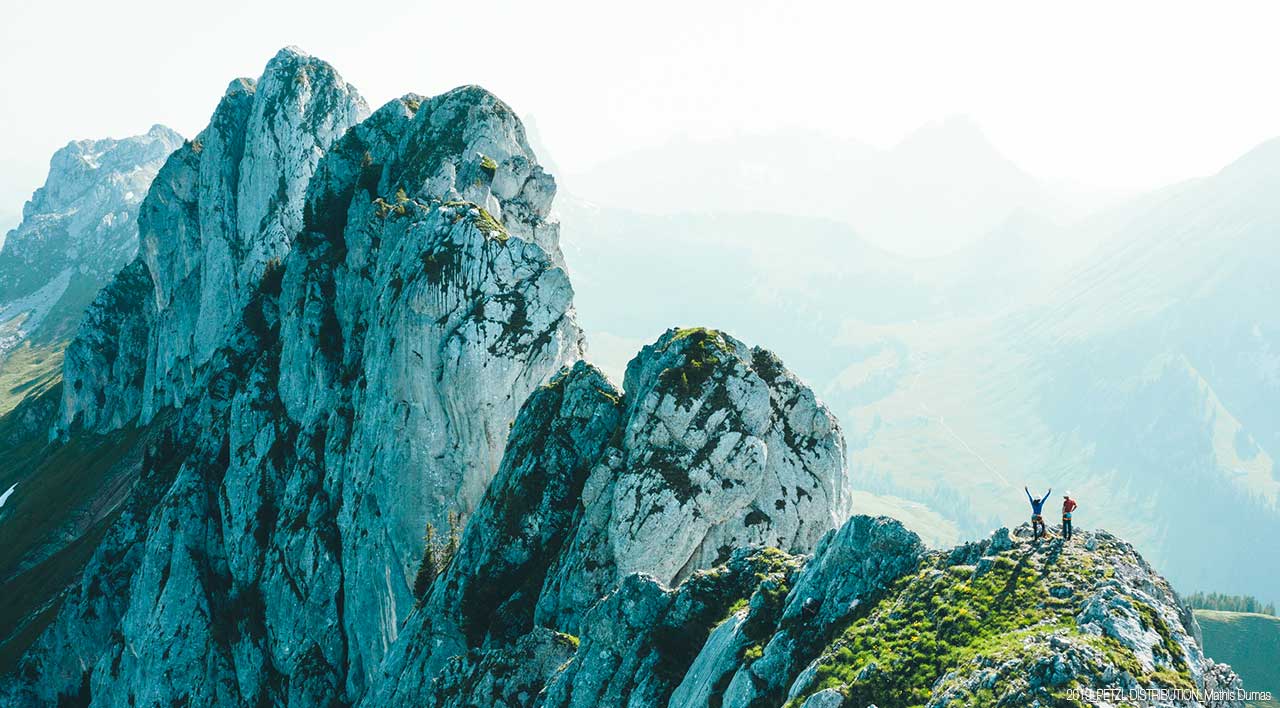 Included in this article