CONNECT ADJUST strength and certification
Warnings
Read the technical notice before viewing the following techniques.
It is important to fully understand the information provided in the technical notice before using this complementary information
Mastering these techniques requires training.
Consult a professional before attempting to perform these techniques on your own.
The CONNECT ADJUST lanyard is personal protective equipment.
It has been CE certified in accordance with the essential health and safety requirements of the European Directive 89/686/CEE (appendix II).
Thus, for the certification, the tests and strength values were defined to meet these requirements:
- static strength > 15 kN
- static slippage > 4 kN
- dynamic test: 5 falls of factor 2, 80 kg mass, adjustable arm set to 80 % of the maximum length - Impact force < 12 kN.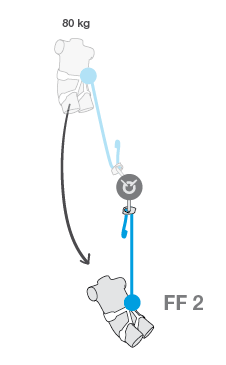 Results
F = 8.9 kN on the fixed arm.
F = 6.2 kN on the adjustable arm.
WARNING: these values represent severe falls that could be very harmful to the human body.
The adjustable arm of the CONNECT ADJUST makes it easy to position yourself with the lanyard taut, thus reducing the risks of poor positioning relative to the anchor.