Ice climbing expedition to the Himalaya
In a remote valley in the Himalaya, a team of six motivated climbers decided to test their mettle on Indian ice in a place where no one else had ever dared to climb. Their project: to meet with Spiti Valley locals, put up new routes, and provide the right support to develop ice climbing in the area. Between the usual chaos of travel and the inherent complexities of ice, cameraman and photographer Austin Schmitz tells us all about the expedition.
January 2 2020
Ice climbing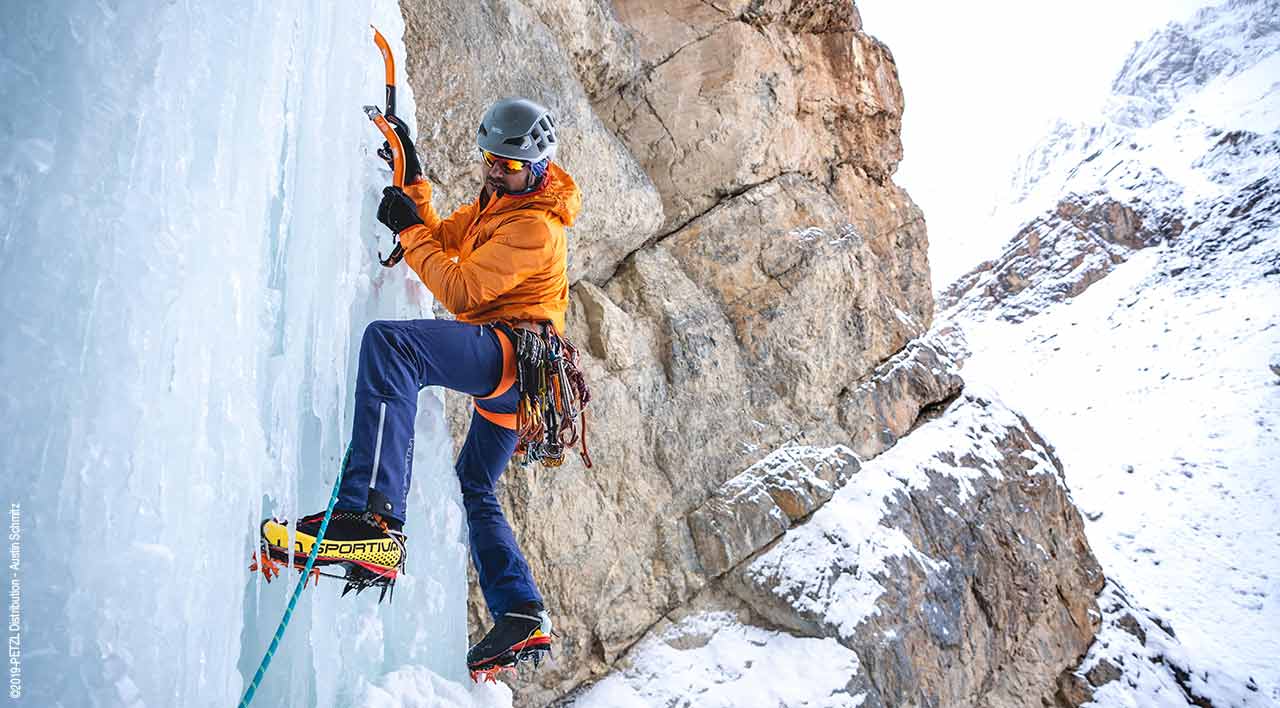 Facing the challenge together
The team consisted of Westerners and Indians all focused on the same objective. Among them, three strong American climbers: Karsten Delap (also an athlete on Team Petzl in the USA), Ari Novak, and Austin Schmitz. Three local climbers shared a rope with them: Karn Kowshik, Bharat Bhushan, and Prerna Dangi, the only woman in the group. 
January 2019. Embarking on an expedition to a remote corner of the Himalaya involves a lot of surprises, mistakes, successes, laughter, and scares. The team shared these moments with the locals. Austin confirmed that, "almost all of the new routes were put up by pairs with a local climber; a truly unique experience that forged a strong bond between everyone in the group." "In today's divided world, what was important at that particular point in time was to simply climb together as partners, borders were irrelevant."
Ari Novak, Karsten Delap, and their team tackled one of the most technical ice routes in the Himalaya, "Snow Leopard," HWI7, 150 m and 3 pitches at an altitude of almost 4260 m. In total, they established 9 new routes in the valley.
Support for a local ice climbing festival
One of the main components of the project was to provide support for a local event, the Piti-Dharr Ice Climbing Festival, the first in India. Gear collected beforehand was provided to participants (ropes, ice axes, crampons…), and professionals taught clinics to help local climbers improve their skills. The team also worked to make several existing cliffs much safer. Climbers from all over India gathered for a week to participate in the festival.
Future opportunities for climbers
The expedition to this distant valley shined a light on the sheer volume of the area's unclimbed waterfall ice: an incredible opportunity for ice climbing aficionados for years to come. The team wholeheartedly encourages Indian and foreign climbers to make the trip to Spiti Valley to put their skills to the test on Himalayan ice. All they ask is that everyone "act respectfully when there and make an effort to interact with the locals, who are super friendly!"
Photos from their trip

A small village just a few hours from Kaza, Himachal Pradesh, India.
As you venture further into the Himalaya, Buddhism's presence increases. Prayer flags crisscross the streets, connecting one household to another. We stopped quickly to eat some ramen and drink the best instant coffee I had ever tasted. In this village we are just a few hours away from Kaza. The mountains in the area are dry and dusty.

Lingti hydroelectric power plant, Himachal Pradesh, India.
The team visited the Lingti power plant. This active facility releases a stream of water that almost immediately freezes. We named it "Indiana Jones and the Rock of Doom," since access is perilous, there is no guardrail, and the risk of rock fall is high. It compares to the Ice Park in Ouray, but much scarier.

Lingti hydroelectric power plant, Himachal Pradesh, India.
Climbers: Karsten Delap, Karn Kowshik.
Route: India Stoke, HWI5.
This is a photo of Karsten Delap during the first ascent of India Stoke with Karn Kowshik at Lingti Crag. The ice is good, with a similar airy texture to the ice at Ouray Ice Park. 

Spiti Valley
Climber: Karsten Delap.
Route: Frozen Diesel, HWI6.
Karsten injured his elbow just a few weeks before traveling to India. However, he wasn't going to let a little pain get in the way of this incredible opportunity to climb Himalayan ice. Karsten grabbed the second ascent of Frozen Diesel.

Spiti Valley
Climber: Karsten Delap.
Route: Cowboys in the Mist, HWI5.
Ice climbing in the sun offered the chance to take a few more photos of Karsten on the second beautifully exposed pitch. Everyone agreed that this three-pitch route would be a classic in the Canadian Rockies. The narrow water runnel creates an ideal strip of ice for a moderate climb.

Spiti Valley
Climber: Karsten Delap.
Route: Snow Leopard, HWI7.
Karsten opens his pack in the evening light, after an unforgettable day in the Himalaya.

Delhi, India
The hustle, bustle, and lights of Delhi, India.