Installation on one single rope with two ascenders
Warnings
Carefully read the Instructions for Use used in this technical advice before consulting the advice itself. You must have already read and understood the information in the Instructions for Use to be able to understand this supplementary information.
Mastering these techniques requires specific training. Work with a professional to confirm your ability to perform these techniques safely and independently before attempting them unsupervised.
We provide examples of techniques related to your activity. There may be others that we do not describe here.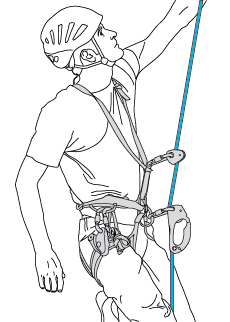 Primary system: one ascender on the belay rope.
Secondary system: a second ascender on the same rope.
Advantages:
Allows the use of longer ropes.
Reduces weight for long approaches.
The system slides along the rope, without pulling.
Disadvantages:
- Requires the use of shoulder straps to properly tow the secondary ascender
- The redundancy principle is not followed with respect to the belay rope WARNING, repeated rubbing against the rock can quickly cut your only rope.
Risks in case of primary ascender malfunction:
- The second ascender stops the fall without interfering with the primary system
Installation on the harness and TORSE with two ascenders:
The primary ascender is connected to the harness belay loop with an OK carabiner.
It is connected to the harness tie-in points with a quick link (PRESTO or GO), an extension (17 cm EXPRESS sling + STRING), and an OK TRIACT-LOCK carabiner. It will be held up and pulled by the shoulder straps (TORSE C26) that are connected to the eye of the quickdraw.
After installation, verify that each ascender slides correctly on the rope in the up direction, and locks instantly in the down direction. Before climbing, verify that all connectors are locked.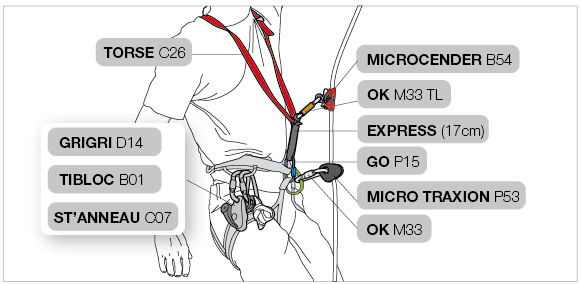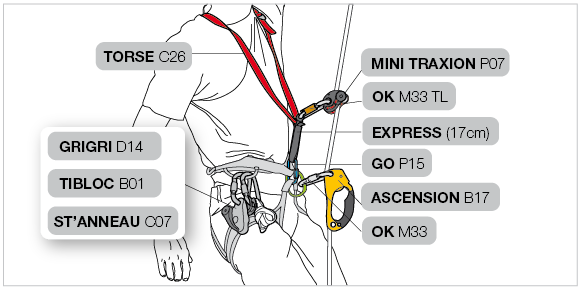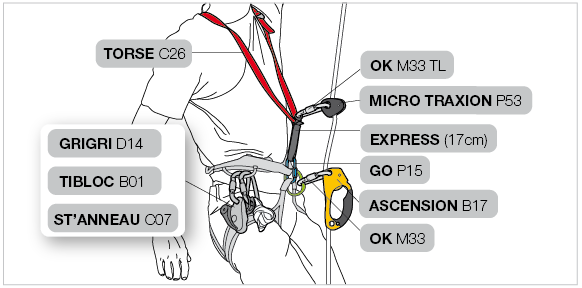 Gear necessary for the self-belay system:
- one EN 892 dynamic single rope or EN 1891 semi-static rope of 10 mm minimum diameter
- a primary ascender (ASCENSION, BASIC, MICRO TRAXION) and its OK connector
- a different secondary ascender (MICROCENDER, BASIC, MICRO TRAXION, MINI TRAXION) and its OK connector
- TORSE shoulder straps
- a 17 cm EXPRESS sling
- A PRESTO or GO quick link, tightened with a wrench
WARNING: repeated rubbing against the rock can quickly cut your only rope.

See precautions and details for this solution in appendix 3.
Included in this article