Using two ABSORBICA I lanyards in parallel: DANGER
Warnings
Read the technical notice before viewing the following techniques.
It is important to fully understand the information provided in the technical notice before using this complementary information
Mastering these techniques requires training.
Consult a professional before attempting to perform these techniques on your own.
A fall on two absorbers in parallel will double the impact force.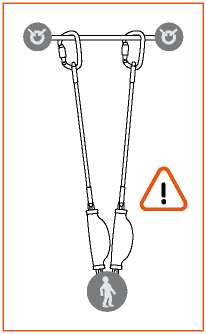 During progression, having two lanyard arms allows anchor transitions while always having at least one lanyard arm connected: the ABSORBICA Y lanyards are designed for this purpose.