Xavier De Le Rue
I have the chance to experience the evolution of my sport: "For a long time I was best known for my titles in snowboard cross. But recently I've had the chance to devote myself to my lifelong passion for freeride snowboarding. I spend my time traveling for different film projects. I also spend a lot of time competing on the Freeride World Tour. Since my days as a grom I always loved riding the powder at the sides of the slopes. Since then, my progression has been guided by passion. This is the chance for me to take the bull by the horns and enjoy the mountains, travel, and be open-minded to new things. It's also my job. I have a beautiful life. I am very lucky and I should remind myself of that more often."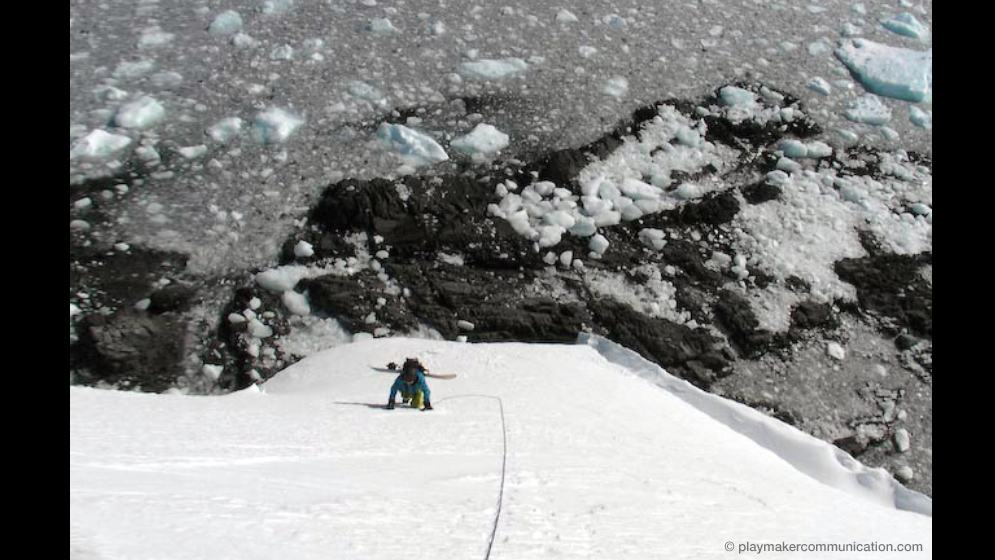 Profile of Xavier
Date of birth : June 1 1979
Current status : professional athlete
Hometown : Saint Lary, French Pyrenees
Activities :

Mountaineering

Training : Business degree
Joined the Petzl Team : January 1 2008
Presentation
"I love powder, but I don't like avalanches. This is a pretty basic premise but it describes the dilemma I face. The most difficult thing for me is to know how to judge the snow and the conditions. Nothing is ever 100% sure. It's important to keep your feet on the ground even when you're stoked out of your mind about the conditions. Snow, by definition, is an unstable medium: unpredictable, unexpected. Sometimes it slides and we don't know why. Other times it stays where it is and we don't know why either. The crew at Petzl consider me to be a specialist, an expert on avalanches, but snow will never be an exact science. I always start with the basic premise not that the snow might possibly rip but that the snow is going to avalanche. What little I have learned on this subject is the result of many years of experience and of discussions with ski patrollers, the guys who are in charge of setting off the avalanche explosives every day, and from talking for hours and hours with super-experienced, high mountain guides."
Multi-talented
"Outside of my day-to-day work, beyond my job, when I'm finished filming for videos and public relations, I love the freedom of climbing and mountaineering. I love to touch the rock and spend time in the mountains. It's a unique time for me, just for fun, even if what I learn I can also apply to my snowboarding. I also love surfing because it's a healthy activity and it's the purest sensation of sliding sideways. As for downhill mountain biking, there is not, in my opinion, an activity more stupid and dangerous. It's just crazy how stupid it makes you feel and it brings up some tough questions for me to ask myself. It all depends on how you approach it… The problem is that I never want to hit the brakes, I don't want to stop, I don't want to do things halfway. Because of this I have to strictly control myself when I'm riding. To take this big of a risk, I have to be in great shape, on point with my anticipation, have total clarity when I choose my line, and really know what it means to improvise in emergency situations."
Photos
Videos
Alaska
"I have been to Alaska many times and this year, for the first time, I appreciated the good things it has to offer. I don't like the stress of hanging out at the heli base or the 'overcoolitude' of the people there. But this year I camped 80 kilometers away at the first human-powered base camp. It was far away from everything and I finally understood the value of the snow in Alaska, or you could also say that I developed an appreciation for 'spines' and Alaska is the land of spines. I'll let you imagine what happened next. It was amazing… For those who don't follow me, Alaska is known for all these coastal freeride areas that offer astronomical quantities of snow, and not just any kind of snow either. This is a type of powder that's loaded with humidity so it sticks to really steep faces. It tends to form the famous 'spines' that are like vertical ribs to which the snow sticks and,due to its stability,provides a really fun side of freeriding. This is comforting to know following a storm with three feet of accumulation and high wind. Basically, everything together makes it possible to ride places that you wouldn't even think about riding here. It really did me a lot of good to spend some time up there, far away from the circus (heli companies, freeriders spraying about their latest sessions, the people who come to experience Alaska before returning to New York), and after doing so I've grown to love the place.
You have to understand that after several nights in the tent and getting up at two o'clock in the morning to start hiking, that it's difficult to get the same amount of runs as when you take the heli (in terms of action, but also because we're a long way from anywhere and we're responsible for our own safety and rescue) where you get stronger and ride steeper and steeper lines as the day goes on."
A new dimension
"But there is still this aspect of stress that is hard for people to understand. After a long session of traveling and jet lag it feels so good to find myself alone in my tent, sleeping, thinking, no computer, no telephone… Before now I've never been a big fan of Alaska but now things are different, it's like a new dimension has opened: I just want to stop with the heli and get myself lost as far away from all that tourist business as possible. I enjoy life and all these sports are a great way to enjoy it. The mountain also provides simplicity, which allows you to escape from certain superficial aspects of life. It is a simplicity that, after a nice little break, helps you appreciate the important things in life. To each his own… In any case, it's a good reality check for people who live their lives on the road and who are always in the media spotlight."
A certain kind of skier or snowboarder
"When I am on a face or summit, inspiration comes on its own. There is always a line that stands out, that attracts me and that I feel. It's a gut feeling. All you need are good technical skills, the ability to keep a cool head, and to want it. It takes a person with a bit of a 'rock n roll' attitude, a dose of wisdom, a love of risk and of the mountain."
The benefit of experience
"Experience is the added value I get from everything I do, at least I hope it is. When I have decided on a line and I drop in, I don't stop, I go all the way to the bottom. I believe the most important thing is to know myself well enough to be able to look at a line and imagine myself riding it. The rest of it – accurate analysis, mental strength, judgment, control, and emotion – is the natural result of a Cartesian balance. It's all a result of long-term experience that enables you to push more and more, year after year. And in the end, for that one day that is truly perfect, a smile is all you really need. You have to believe."
Xavier's anecdote
Major ascents
Competition
Participated in the 2006 Winter Olympics in Turin and 2010 Winter Olympics in Vancouver
World Freeride Champion 2008, 2009, 2010
Snowboard Cross World Champion 2001, 2002, 2003, 2007
Named 2010 Freerider of the Year in the famous Riders Award (USA)
Other information
Films