Sean Villanueva O'Driscoll
"I started climbing when I was 13 years old, in a climbing gym in Belgium. I then started sport climbing. In the beginning, camping and hitchhiking were enough to satisfy my need for adventure. Then I discovered what has now become my specialty, big wall free climbing, wet mossy off-widths, runout slabs..."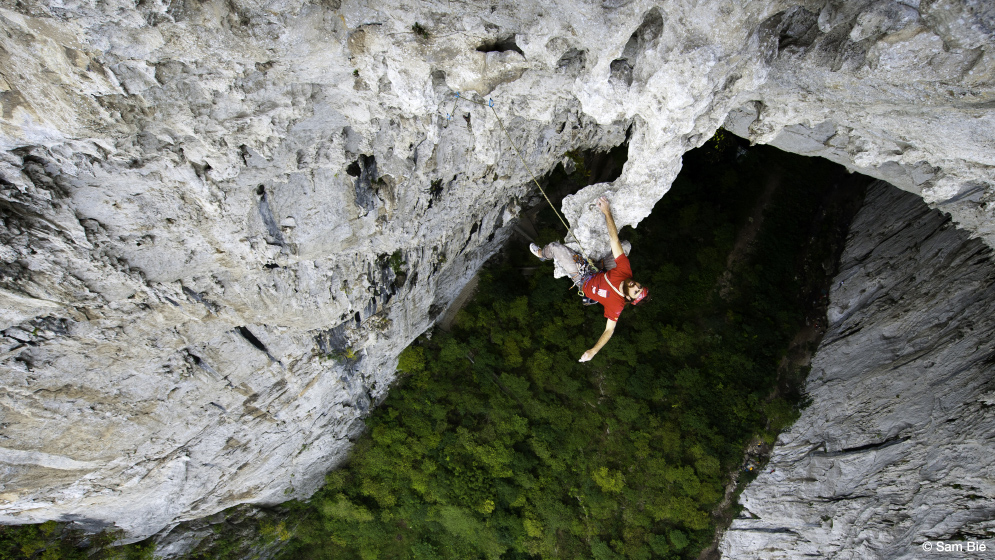 Profile of Sean
Date of birth : February 7 1981
Current status : Professional climber
Hometown : Brussels (Belgium)
Activities :

Rock climbing, Multi-pitch climbing

Training :
Joined the Petzl Team : January 1 2011
Presentation
First free ascents with my tin whistle
"I love climbing. It's the challenge. Moving over rock, giving it everything, exploring. I like all styles of climbing. Good quality, bulletproof rock with perfect holds is amazing to climb, and so is wet, mossy, chossy off-widths. It adds to the adventure, and makes it… interesting. Climbing is my way to live life. I can travel, meet amazing people, share experiences and live incredible adventures. Big wall free climbing teaches you everything about life. It makes you live the moment. You can really feel things, you can really taste food, and you can really feel the rock shredding your fingers as the blood oozes out. There is nothing I don't like about big wall free climbing. Any activity I do is related to climbing really. I like to slackline. It teaches me to be in an optimal state of mind in which thought, emotion and experience become one. It brings me to a state where the notion of time does not exist, everything happens in the here and now, where everything is connected. The same state of mind as when the climbing flows. My tin whistle is an essential part of my climbing equipment. When I'm dangling high up a vertical cliff, stuck in a storm in a small portaledge for days in a row, my tin whistle is there to make sure that I'm not waiting. I'm being. I play music."
Photos
Playlist video featuring Sean Villanueva
My favorite place is planet Earth
"I like wild and remote places and preferably with big rock walls. Places I have visited include Yosemite, Patagonia, Pakistan, Baffin Island and Greenland. There are many other places on the planet that I would like to visit."
My goal in life: to meet, to share, to inspire
"I like to share my experiences and adventures and I do so through writing articles, making films and giving slide shows. It is very important. It's great to be able to inspire people to live their dreams. I also think it is meaningful to share with people the importance of respecting the rock, the mountains and nature and to have good vibes. I would like to continue doing what I do, and go and explore big walls in remote and wild places."
Sean's anecdote
"One of my most difficult moments on a Big Wall, was on the Central Tower of Torres Del Paine in Chilean Patagonia. On day five of an eleven day ascent, while going to the bathroom in a storm, hanging 150 m off the ground, my last piece of toilet paper flew away! Forcing me to continue the rest of the ascent with rocks, ice and whatever I could find really!"
Other informations
Films
"Pakistan Project" First ascents in Characusa Valley, Karakorum (Pakistan) production www.xpedition.be, out of stock.
"Asgard Jamming" An award-winning film about an expedition to Mount Asgard, Baffin Island (Canada), production www.xpedition.be, 2010.
Vertical Sailing Groënland " production www.xpedition.be, 2011.
Major ascents
West Coast of Greenland "exploring the fjords in search of virgin big walls", 2010.
During this sailing-climbing expedition, we lived together on a small 10 m sailboat for three months and climbed nine first ascents. Our team: Nicolas Favresse, Olivier Favresse, Ben Ditto, Sean Villanueva O'Driscoll, and Bob Shepton, skipper and priest.
Fitz Roy (Patagonia, Argentina) "first free ascent on the East face of Fitz Roy, a variation of the aid route El Corazon" (1200 meter big wall) 2011.Together with Nicolas Favresse, we each climbed every pitch free and onsight, climbing through the night with almost 30 hours of non-stop climbing
Included in this article