Aljaž Anderle
Still stoked after twenty years of ice climbing : "The passion for the sport, a love of life, a certain ethic, commitment, a desire to explore, the desire to improve… Climbing gives meaning to my life. In short, that is who I am. Every person carries within himself the opportunity to live a happy life in harmony with what he loves and I try in every way I can to be that kind of person. As such, Petzl has always been an important partner, not only for their sponsorship but also for their friendship and philosophy. I try to explore and push my limits. A bit like the film "Le Grand Bleu", I tend to look for what's on the other side to understand the significance of what's possible and, at the same time, the meaning of life."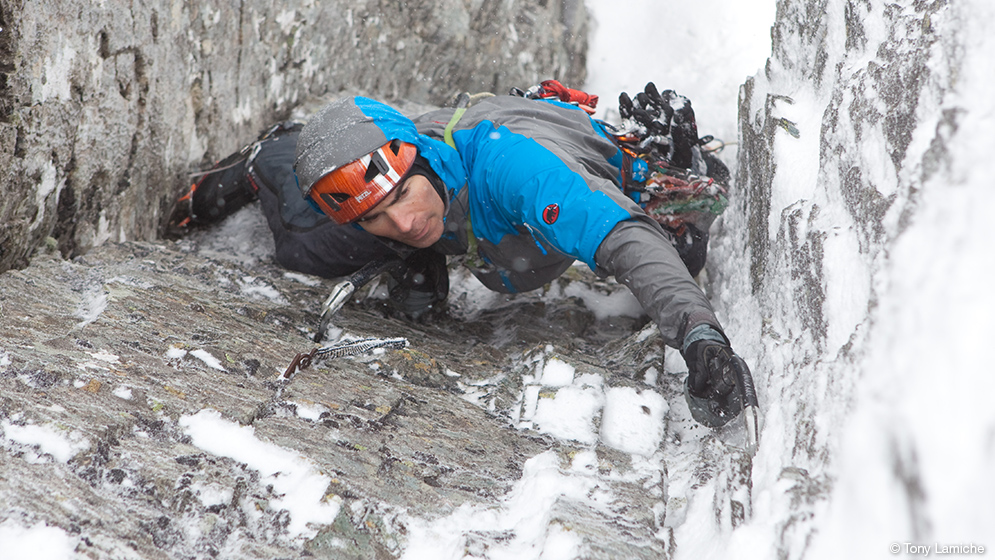 Profile of Aljaž
Date of birth : June 8 1973
Current status : Mountain guide
Hometown : Tržič, Slovenia
Activities :

Mountaineering, Ice climbing

Training : University degree in international security
Joined the Petzl Team : January 1 2000
Presentation
Has my childhood prepared me for my job as an alpinist?
"No, not really. Both my parents are alpinists but I always wanted to be a pilot. Then I wanted to be a soldier. During my childhood, it was Ayrton Senna who inspired me the most with his willingness to constantly progress (and. as a result, I crashed a few cars…). In addition, if I wasn't doing what I do now, I would be a pilot. Why? Is there any link between that and my life today? What is it? I don't know."

A geographical link
"The places where I feel the best are northern Norway, Alberta province in the western Canada, and all of Slovenia. Slovenia is my home. I am emotionally attached to it because it's possibly one of the most diverse countries on the planet. Although I have traveled extensively, you should understand that I love my country.
In Canada, you always receive a very warm welcome. I love to go back there because of the feeling you get of freedom and immensity, which makes me happy. In Canada you can leave behind the crowds and the hectic lifestyle of Europe.
It's the same thing in Norway, especially the northern part where man exists hand in hand with nature to create unbelievable scenarios. This combination comes from working creatively in a really difficult environment."

My working relationships
"Financial matters are not the most important thing in my life, but perhaps it's part of the secret to being happy. I love to be surrounded by true friends. I love to work with partners who show mutual respect and openness. I like to work on a win/win basis, which makes everyone happy. My partners, employers and clients are: the Alpine Association of Slovenia, Mountain Rescue Service, Slovenian Mountain Guide Association, and The School of Rhetorical Skills in Ljubljana."

Inspiration
"I spend a lot of time reading and writing. Douglas Adams, Arthur C. Clarke and Richard Bach are a few of my favorite authors."

My favorite books are:
"Childhood's" End by Arthur C. Clarke .(Perhaps there is a future for humanity)
"Illusions" by Richard Bach. (We are the creators of our own lives.)
"Fate is the Hunter" by Ernest Gann. (The true story of a pilot who talks about the unpredictable direction that destiny always takes us.)
The two films that have caught my attention the most are:
"Blade Runner". (This film shows us another dimension of life that we think we know. We discover what we already know and what we are about to learn.)
"Pulp Fiction". (We must stay in control of life so that we don't suffer all the time.)

Proper use of rhetoric
"My primary objective is to share my experiences. I teach young climbers, I organize slideshows. I write about rock climbing and mountain safety. I am a mountain guide, and I design an educational curriculum for alpine instructors. It's a great honor for me to share my knowledge with others and to learn at the same time."

Patience, faith, tranquility and consistency
"In five years, my life will not be very different. I will continue to take advantage of my good fortune, take the necessary turns and make the right choices based on my instinct, and to share with the people that I love. If I had no limits for example, I would go back in time, take Guy Lacelle by the hand and I would choose an ice route that we would climb together and that he would list as one of his favorites. Guy Lacelle is the master who introduced me to ice climbing."

Aljaz's anecdote
"Many of my climbing stories have one thing in common: a car accident. There must be a reason but perhaps I should just be thankful for the luck I have in the mountains because, in the end, crashing cars is not a high price to pay. The result is that there is a reputation following me that it is less stressful to go climbing with me than to get in the car with me."
Photos
Videos
Playlist with Aljaž Anderle

Major ascents

Mountaineering
Gasteinertal, Austria "Centercourt" (W17+) 2010, second ascent
Ledenka, Slovenia (500m / M7, W16) 2010, ascent of a mixed classic opened by Francek Knez in 1991
Julian Alps, Italy "Babau" (550m / W16) 2011, first free solo
Bulmassif, Slovenia (200m / M7, W16+) 2011, second ascent
Other information
Books
Montagne Magazine ("Slovenia" story co-written with Urban Golob), March 2004
Adria Airways magazine (ice climbing story), December 2004
Revija Sport "O modern ropes" by Aljaž Anderle, July 2007
Planinski vestnik (SAA alpine journal) "Climbing in Norway" by Aljaž Anderle, November 2007
Les Montagnes (Norway article) co-written with Urban Golob, November 2007
Sport magazine "Canada, la passion de la glace" by Aljaž Anderle, 2007
Sport magazine "L'escalade de glace" by Aljaz Anderle, 2007
National Geographic SLO "Rock and Ice Climbing" by David Stropnik and Aljaž Anderle, 2007
Montagne magazine "Aventure dans le grand Nord de la Norvège" co-written with Urban Golob, 2007
Sport magazine "L'escalade en Écosse" by Aljaž Anderle, April 2009
Men's Health "Climbing in Japan" co-written with Urban Golob, December 2009
Slovenian Alpine Journal "Mountain security" co-written with Tadej Debevec, 2010
Films
"Ice Rock & Steel" (Slovenian TV) 2000
"Pitch Sorbet" (Petzl Videos) 2002
"Ouray Ice Festival" (Petzl Videos) 2006
"Scottish Ice Trip" (Petzl Videos) 2009
"Konichiwa, Have An Ice Day" (Petzl Videos) 2011