Nina Caprez
Searching for happiness in the present moment. "I have great confidence in myself. I am someone who is sure of herself. In our sport, this is fundamental to being able to complete difficult multi-pitch routes. Being outside, living life to the fullest, meeting people on the same wavelength, climbing together... That is happiness for me. My first big competition was the youth championships in Beijing... It was the first big memory for "Little Nina". I love this feeling of succeeding in competitions. Competing with yourself doesn't really do it for me. I am always looking to improve in sport climbing and to complete the great routes that I hold really close to my heart."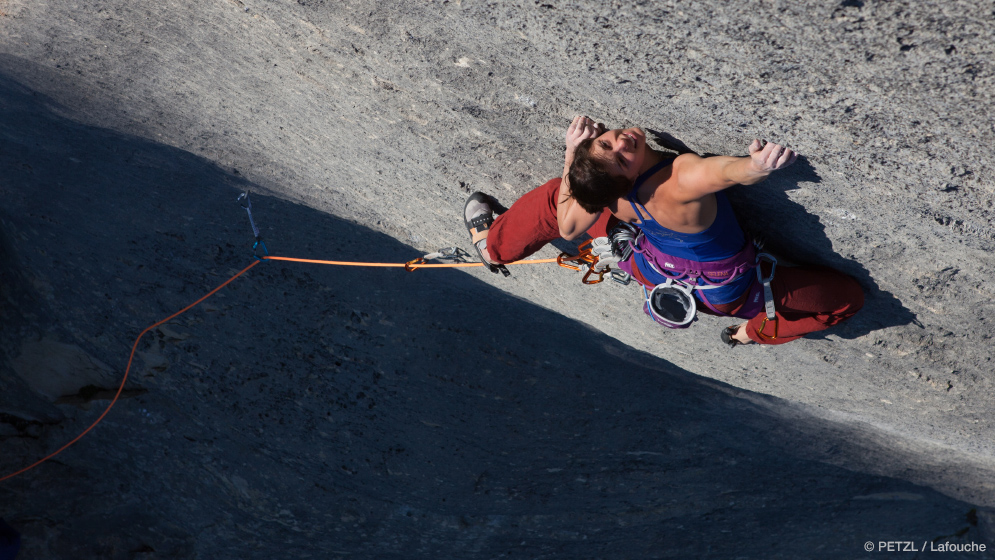 Profile of Nina
Date of birth : November 15 1986
Current status : Top-level Athlete
Hometown : Grenoble, France
Activities :

Rock climbing, Multi-pitch climbing, Bouldering

Training :
Joined the Petzl Team : January 1 2010
Presentation
"I grew up near Rätikon, a legendary cliff with great routes. I've always loved the sensation of height, nature and freedom... I found what I was looking for in climbing thanks to Laurent Triay who told me about a route called "Ultime démence" in Verdon. Now I am really looking for greater difficulty and big routes.
Climbing is a way of channeling myself to find out what I am made of. Pushing myself to the limit, traveling all over the world, meeting people from all four corners of the world. I have learned that the most important thing is to be happy in this world! That's what climbing is for me. It's a sport based on the simplicity of living. You just need a rock, a harness, climbing shoes and a climbing buddy."
My motto: Life is too beautiful and the days too short to be sad.
"I would really like to communicate with the climbing world: expert, amateur or beginner. My way of life teaches me what the word 'autonomous' means. My reason for living is to follow through with my convictions. To succeed I have to channel my thoughts and my energy. If I succeed in completing a big, extreme, multi-pitch route, it's because it makes me happy. I have felt attracted to big routes for a long time now. It was just a question of time before I seriously started to work on them as projects. Since I was a young girl, I have never felt comfortable being part of a system controlled by people who think they know everything. At high school I was really unhappy because I always knew what was going to happen the next day. This feeling stopped me from growing. I had to get out of this frame of mind. In climbing, everything has is important: the way you see the route, working out a line and finally living the rock. I myself choose what's best for me. I take responsibility for my choices and decisions and I don't ever look for excuses for what I can't manage. I was born to climb; it takes me all over the world, to beautiful, lost places. I learn, grow and then learn some more. The big routes came to me when I was ready. Whenever I make a breakthrough, it's not enough. Of course, it's better to be versatile, to know how to adapt to the type of rock. Now I listen to myself because I know that gives me strength. I have confidence in myself. I want to do exactly what I really feel like doing and try not to do things I don't feel like doing. Like many female climbers, my inspiration is Lynn Hill but the person who most directly helped me to progress in this sport is Cédric Lachat."
Photos
Vidéos
Video playlist featuring Nina Caprez
)
Choosing a climbing partner is important to me
"The people you tie in with on the wall represent more than support, they're more like a catalyst. To perform and succeed on a big route I require friendship and trust in my climbing partner. For example, I never climb with people who I don't feel right with. I have to sense that we are on the same wavelength, have the same thoughts and are compatible. I need to have a partner who is my equal. I always want my partner to also want to complete the route. I never take someone for reassurance alone."
The most important places for me are Verdon and Céüse
"I spent my first sport climbing holidays in Céüse and it's been a magical place for me since the beginning. In Verdon I discovered the climbing style I was searching for: big; sport routes. I had rarely seen such a beautiful landscape!"
Besides climbing, I like things that have rhythm...
"I do lots of ski touring. I was born with skis on my feet and I love the light feeling of skiing an untouched slope, making first tracks. I also love working with wood, tinkering with photos. I love listening to music and cooking. If I didn't climb, I would be a performer. Maybe I would be in the circus."
Films, videos
Tuzgle – Climbing in Argentina – a film by Julien Nadiras and Vladimir Cellar
Ultime Démence – a portrait of Nina climbing this multi-pitch route
Mammut Teamtrip Kyrgyzstan 2009 – a film by Christoph Frutiger
Mammut Teamtrip Thailand – Deep water soloing
Mammut – Rumney USA Teamtrip – a film by Rob Frost
Expedition in Patagonia – Lowmotion films
Major ascents
Competition
Participation in the 2009 Youth World Championship (lead), Peking
7th and 8th in the Bouldering World Cup
Sport climbing
Verdon, France – "Ultime Démence" (150m / 8a+) 2009, first female ascent
Verdon, France – "La Ramirole" (150m / 8b) 2009, second ascent after Silvain Millet
Verdon, France – "Alibaba" (8a) 2010
Sardinia, Italy) – "Hotel Supramonte" (300m / 8b) 2010
Included in this article