Charlotte Durif
In for the long haul : "I started quite naturally with my father and my brother on big, high-mountain routes where we bivvied on the glaciers. I was very young and I was immediately captivated by this environment into which I had immersed myself: nature, hiking, skiing, canyoning and via ferrata. Then I paid to go climbing indoors and I was completely hooked by this more technical style of climbing. At the spots I go to the most, I meet people who are driven by simplicity, people who are often outside the system. I find that my taste for climbing is becoming more and more influenced by their way of living. Their authenticity and their influence truly orients my life choices. I know why I climb and that is why I climb. I am in harmony with my way of being active and the peace that I get from nature. I love long, sustained routes because they allow me to settle in for the long haul. They give me the time to be more creative in solving problems one after another. This feeling hits me when I'm far above the belay and it leaves me with memories of emotionally-charged feelings and movements."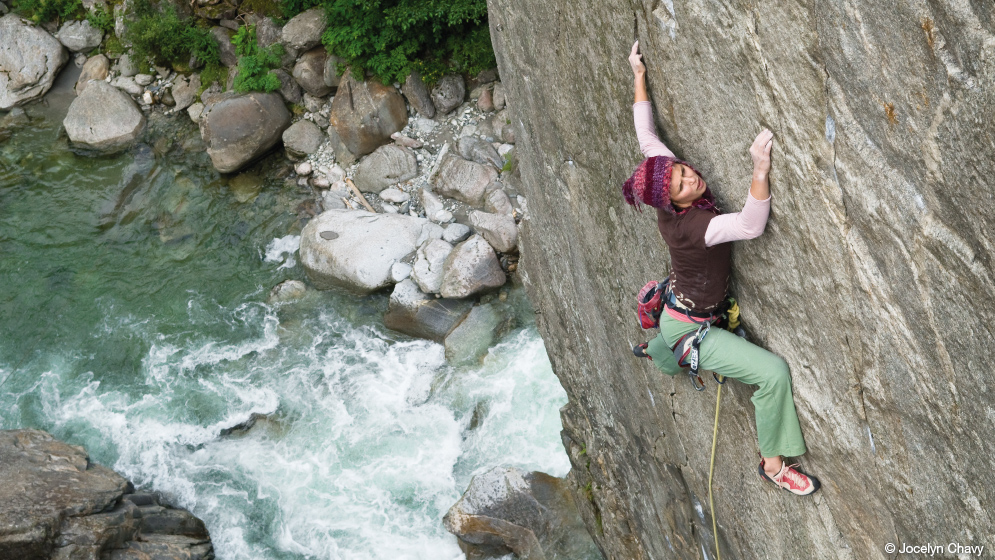 Profile of Charlotte
Date of birth : August 18 1990
Current status : Student
Hometown : Bourgogne, France
Activities :

Rock climbing

Training : Preparatory classes (higher mathematics and special studies), ENSMM engineering school (mechanical and microtechnology)
Joined the Petzl Team : December 27 2000
Presentation
Patience and concentration
"Nature is beautiful and amazing. The rhythms and the attention she requires for her own well-being, challenge me and not just technically. For example, when I am ski touring and I find myself face to face with chamois, bouquetins, raptors, marmots and wolves as well, it confronts me with my legitimacy to be in these places and teaches me to live with humility and respect. In climbing, a line is all that's needed to inspire and motivate me: logical, natural, bold or improbable. At that time, I need patience, concentration and a bit of level-headed courage."

"In France, the Gorges du Tarn has taught me everything and provided my motivation for sustained climbing. Now, it's the Gorge du Verdon that has attracted my attention. It's in these canyons of Verdon, rising up in their modern version of the Rive Gauche, that I find the craziest diversity. Time has produced unique geological anomalies and the climbers who originally pioneered the routes had the foresight to open only the most relevant routes that follow natural and legitimate lines. Outside of France, Kalymnos is a jewel and Spain provides some nice moments. But there are so many other exceptional places that one life is not enough to discover them all. Each time I leave I regret not being able to learn more."
A double life
"I dream of having more time for climbing. I should optimize my time. I need to organize myself so that I can more fully benefit from my experiences. The times when I climb my best are intense in the number, frequency and diversity of routes. Sometimes it almost feels like work to reach my symbolic goals. I love my double life as a student and climber but sometimes I regret not being able to focus on giving my best for more than short periods. I would go a lot further if I was able to have more continuity in my training. But the enrichment that my studies bring me are important. Hey, my onsighting continues to improve and perhaps one day my priorities will be different."
Bivouacs
"Bivouacs are special moments; moments that grow from imagination and fill my life. From the age of six years old, all wrapped up on the dark Oisans glacier, I have spent many nights listening to the wind shaking the tent, always alert for the slightest sound of falling rocks. There are two bivouacs that I especially remember. During the night of my twelfth birthday, I spent my 'Happy Birthday' at La Croix at the top of the Maurienne facing an episodic bivouac while watching the Big Dipper. I have conditioned myself to wake up often to observe her progress. At another bivouac in Sardinia, while putting up a new route, I received an invitation to relax in the 'Hotel Supramonte', which was hanging from the ninth pitch, in a very exposed niche."

Photos
Videos
Charlotte and the Petzl team
" For me, success is not an end in itself, but a means to explore the limit of what is possible. Every success requires a small margin of courage and experience that elicits a different look at things. My motto is, the difficulty is that which it represents. As a woman, that's difficult and I need time and training to master it. Since this is a problem that is worth being discussed, I like to share with the other members of the Team: a little bit of tenacity, curiosity, courage, and with experience, a bit of simplicity and modesty. Thanks to Petzl, I was very young when I faced my elders on the international circuit. I started competing when I was 10 years old. They taught me to watch for possible difficulties. Thanks to the climbers on the Team I have found that which has fulfilled me in the diversity of the sport. Petzl is the organizer of unlikely meetings and often the witness of passions. I thank Petzl for never demanding anything, not even to do my best nor the slightest constraint of success or performance. This inspires me to push back the limits of what seems possible within my own means. "
Major ascents
Competition
Five time World Champion (youth category)
European Champion 2006 (lead climbing, senior category)
First place, French Cup 2010 (lead climbing)
French Champion 2010 (lead climbing)
First place, World Cup Chamonix 2010 (lead climbing)
Sport climbing
Pic Saint Loup (Languedoc France) " Roi du pétrole " (8c) 2010
Verdon (France) " Tom et je ris " (8b+)
Verdon (France) " Ramirole " (8b)