Colin Haley's Begguya Kit
On May 12, 2017, Petzl Team member Colin Haley finished a successful solo of the North Buttress of Begguya (sometimes referred to as Mt. Hunter) in the Alaska Range. Haley's time from Basecamp to Basecamp was only 17 hours and 13 minutes, while he completed the actual climb from bergschrund to summit in seven hours, forty-seven minutes. Haley had previously attempted the route in 2012 but turned back a hundred meters from the summit feeling too exhausted to continue safely. This year he credits his improved fitness, abilities, and tactics in the successful lightning ascent. Below Colin Haley details exactly what gear he carried with him, and how it contributed to his lightning fast climbing.
June 5 2017
Mountaineering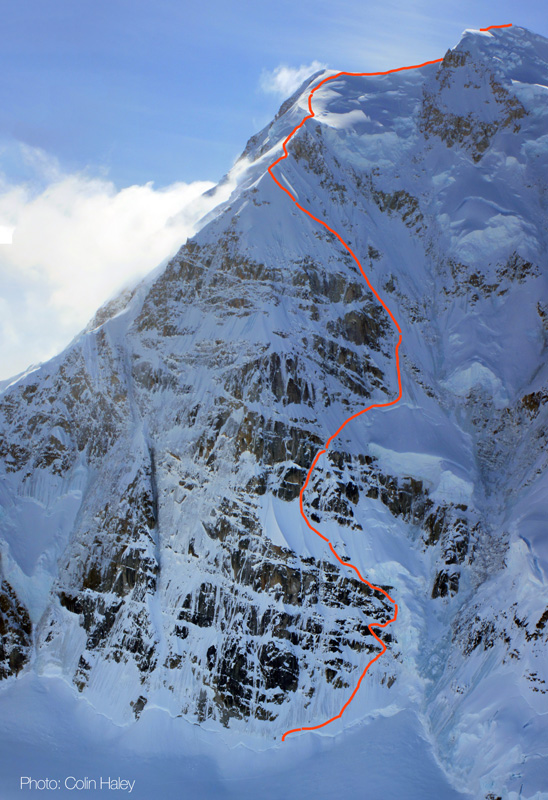 I almost take it a bit too far, thinking about details so minor that they probably don't have much impact on my climbing success. Regardless, I enjoy the game of making my equipment as light, efficient, and suited to the objective as possible. I do genuinely think that having the right equipment, and particularly not carrying too much weight, does make a real impact on an alpine climb. I find that with solo alpine climbing, in which one individual carries all the gear that is often shared between partners (tent, stove, ropes, rack, etc), it is a pursuit where choosing exactly the right things, and nothing more, is even more important than when climbing with a partner.
The following is a display of all the gear I used recently to make the first solo ascent of the North Buttress of Begguya (unfortunately, referred to as Mt. Hunter). This was a one-day climb that I completed in a little more than seventeen hours roundtrip from basecamp. I spent a total of about two weeks in the Central Alaska Range, so this list does not include all the basecamp gear that I brought onto the glacier by ski-plane to survive in the sub-zero glacial environment.
HARDWARE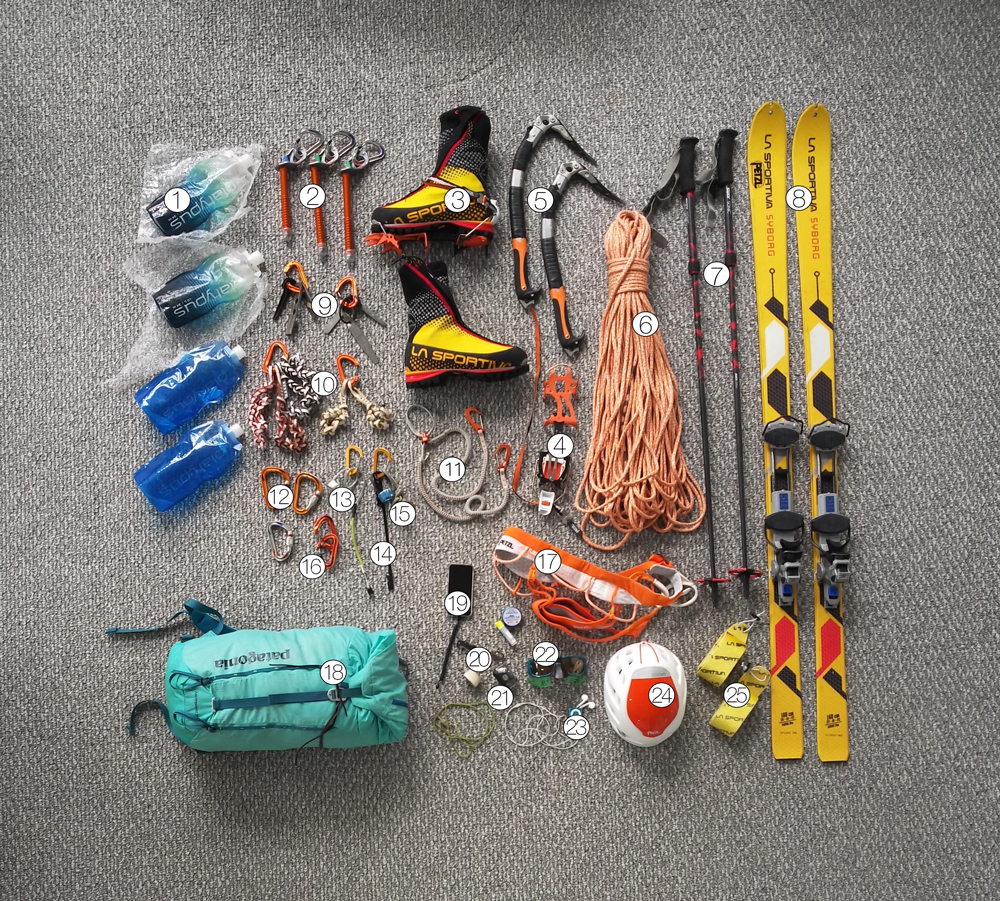 1) Four Platypus Water Bladders
The traditional tactic on a big alpine climb in the Central Alaska Range is to carry a couple liters of water, and stop periodically to make more water by melting snow. I chose instead to not bring a stove, and simply leave basecamp with four liters of warm water. I like using bladders because they never jab you in the back if your backpack is poorly packed, and once empty they don't take up much space inside your backpack. Since I was relying on my four liters of water not freezing, I needed to keep the water bladders well insulated. I filled each one the night before with nearly-boiling water, and then wrapped each one in several layers of bubble-wrap, which is very lightweight and seems to insulate well. On top of the bubble-wrap, I tied closed a Fred Meyer plastic grocery bag, just to keep the layers of bubble-wrap from unravelling. The whole system worked quite well, and none of my water froze.
2) Three LASER SPEED LIGHT Ice Screws
These ice screws are, in my opinion, the only ones currently worth bringing on an alpine climb. The weight savings compared to steel screws are very significant, especially in the longer lengths. I chose to carry one 17cm screw, and two 21cm screws. The 17cm screw is to clip myself to while making a v-thread (Abalakow anchor), and the 21cm screw is to make the v-thread. The second 21cm screw is simply in case I drop one; My survival was dependent upon making a ton of rappels (about 40-45), the majority of which were on v-threads, so I needed to be able to efficiently make solid v-threads even if I messed up and dropped one ice screw.
3) La Sportiva Batura 2.0 Boots
These are the boots I most often use for my alpine climbing. There are a lot of things I like about them, such as the integrated gaiter and the lightweight and stiff carbon-fiber midsole. I think they are one of the warmest single boots on the market, perhaps even the warmest. This was important for my climb, because it is quite abnormal in mid May in the Central Alaska Range to use a single boot (as opposed to a boot with a removable inner liner - a "double boot"). I prefer to use the Batura 2.0 (as opposed to the G2SM) because it is lighter than a double boot, and the climbing performance is higher. I feel that for me the key to using a single boot in an environment this cold is to use vapor-barrier socks (see below).
For less-technical mountaineering, I often use the IRVIS HYBRID or LEOPARD, but for technical climbing I use either DART or DARTWIN crampons exclusively. They climb very well, have the hardest (longest lasting) steel on the market, and are lighterweight than all of the equally technical competition. The recent upgrade made them even lighter than they were already. I prefer mono points for mixed climbing, and dual points for pure ice climbing. I think that the advantage of mono points on mixed terrain is greater than the advantage of dual points on pure ice, so I use DART crampons more often, even on a climb that is 80% pure ice and only 20% mixed climbing. My solo line on the North Buttress, however, was only about 5% mixed climbing, so I chose to take DARTWIN crampons.
These are the axes I usually use for technical alpine climbing. The QUARKS are lighter than the NOMICS, and I don't really feel the need for the more radical geometry of the NOMIC unless I am climbing on very sustained, steep terrain, which is more often the case when cragging than when alpine climbing. I choose to remove the TRIGREST because I find it more comfortable to place pitons without it, and as long as I put grip tape on the shafts, I have no problem choking up on the shaft when I want to. For this climb I chose to use the PUR'ICE picks, and the MASSELOTTES (pick weights), which made my axes swing incredibly well into the cold, hard ice of a north-facing climb in Alaska. On one of my axes I had no hammer, and on the other axe I had the MINI MARTEAU (mini hammer). The full-size hammer works better, but is heavier, and I wasn't planning to place pitons. I brought the MINI MARTEAU and a selection of pitons just in case, as a sort of security in steep, alpine terrain.
6) 80m RAD LINE
I have been using 5-6mm static rappel ropes in the mountains for about 15 years, so I have had the opportunity to try many options. The thing that makes the RAD line special is that it is extremely lightweight, particularly for its diameter. At 22 g/m, the RAD LINE is lighter than many 5mm ropes, even though it has a 6mm diameter. This is nice because being 6mm (as opposed to 5mm) it is reasonable to control in a [small] belay device, or use with a MICROTRAXION. It is a particularly soft, supple rope, which means it is not ideal for rappelling on rocky terrain, but well suited for snow and ice terrain. It was not easy to decide what length rope to bring. A longer rope is heavier, and thus would slow me down more on the ascent, but would speed me up on the descent because I would be able to make fewer rappels. I debated between 80m and 100m, and eventually went with 80m. For this objective, having a single 80m was definitely nicer than having two 40m ropes, because there is no knot to get hung up, and I never needed to remember which side to pull (a plus when making forty rappels!).
I was introduced to these poles by my friend Nils Nielsen, and I absolutely love them. They come in three different lengths, and I use the middle size that adjusts between 115cm and 140cm. The cool thing about these poles is that the two sections do not come apart, which means that you can adjust them between their minimum and maximum length without looking at the poles at all. This is handy because I normally ski downhill with 115cm poles, and 140cm poles are perfect for me for poling on the flats. So, when I'm skiing downhill and see a flat section ahead, I switch my poles from 115cm to 140cm while I'm skiing, without losing any speed. Likewise, if I've been double-poling or skating along a flat section and suddenly start skiing downhill again, I adjust my poles from 140cm to 115cm without looking at them and without losing speed.
8) La Sportiva Syborg Skis, with Silvretta 500 Bindings
I do a fair amount of skiing in my climbing boots, especially in Alaska. I think that the best approach skis are usually skis designed for ski mountaineering racing, because they are lightweight, and the short length (usually 157-164cm) makes them easier to turn with such flexible boots. I have newer skis which are definitely much better than the Syborgs (The SkiTrab Gara Aero, which, lucky for me, is being distributed by La Sportiva), but even when you're sponsored you can't always justify mounting such heavy bindings on such awesome, lightweight skis! The Silvretta 500 is, I think, the best binding every commercially made for using with climbing boots. I used the medium length for years, before realizing a few years ago that the small length goes big enough to accommodate all my climbing boots, and it is of course a bit lighter weight! I actually have a pair of approach bindings that are even better than the Silvretta 500s, custom made by a friend in Austria, which I was using in Alaska last year. Unfortunately I couldn't fit them into my luggage from Chamonix back to the US!
9) Six Pitons
I carried with me one Petzl V CONIQUE, and five titanium pitons. The titanium ones are a mix of some Ushba ones I bought many years ago at Pro Mountain Sports in Seattle, and most that I've bought in small shops in the Thamel neighborhood of Kathmandu. Titanium pitons are awesome because of how lightweight they are, but rare and expensive, so I only bring them on climbs that mean a lot to me. Almost anytime that I'm up on a big, steep mountain I carry a selection of at least a few pitons. There have been many times in my life that I've built a rappel anchor off of pitons, in a location where no other solid protection could have been placed. For me, carrying a selection of pitons is a form of insurance plan, in case something goes wrong and I end up rappelling down unknown terrain. On this climb I didn't end up placing any of my pitons, which was nice.
10) FIN'ANNEAU Slings
I carried a small handful of dyneema slings (1x 180cm, 2x 120cm, 2x 60cm). Two of them I use as part of my rappelling setup - A 120cm sling doubled-over and girth-hitched to my belay loop for clipping into rappel anchors, and a 60cm sling doubled-over and girth-hitched to my belay loop for extending my rappel device (for using a prussik auto-block). The other three slings I carried in case I needed to use them for rappel anchors, and I did indeed leave one 120cm and one 60cm sling, both to rappel off of rock horns.
I am a big fan of using umbilicals on my ice axes, especially for technical alpine climbing. For me it has nothing to do some sort of safety backup - it is purely to avoid accidentally dropping an ice axe. I like the new V-LINK umbilicals quite a lot. I think they work quite well, but the main reason I prefer them is because they are significantly lighterweight than most other options.
12) Two ATTACHE & One SPIRIT SCREW-LOCK Carabiners
The spirit screw-lock is for clipping into ice screws and fixed rappel anchors during my descent. The two ATTACHE 'biners are for using with my rappel device, to get more friction than with only one 'biner.
13) Two DMM Bugette Belay Devices
For many solo objectives, in which I carry a thin rope only for rappelling, I bring this miniature belay tube to get an adequate amount of friction on such a thin rope. The reason I brought two is because my descent involved about 40-45 rappels, and I really didn't want to have to make a ton of rappels off of a munter-hitch if I dropped a belay device.
14) MULTIHOOK & Spare Abalakov Tool
I quite like the MULTIHOOK, and find that I can more quickly and consistently make v-thread anchors with it than any other v-thread tool that I have tried. The spare v-thread tool is a custom one made by a friend in Austria. It does not work as well as the MULTIHOOK, but it is extremely lightweight, so I often carry it in situations when I don't expect to make any v-threads but want to carry a v-thread tool just in case. For this climb I expected to make MANY v-threads, so I brought and used a MULTIHOOK, but carried the spare v-thread tool as a backup in case I dropped the first one.
15) Amsteel Prussik
I started consistently using a prussik for rappelling several years ago when Rolando Garibotti taught me a very good system that makes it only marginally slower than not using a prussik. My preferred prussik is this cord, about 4mm in diameter, made of an aramid fiber that is referred to as "amsteel." It is very light, very strong, and gives very good "bite," on my rappel ropes, even just a 6mm RAD LINE. For the climb I carried my belay devices, v-thread tools, and prussik on key-chain 'biners, since I knew I wouldn't use them until descending, and already had enough total load-bearing carabiners.
16) Two Spare ANGE S Carabiners
For clipping my ice axes to my harness when rappelling.
17) SITTA
The SITTA is Petzl's premier harness for alpine climbing - very light and compact, but fully-featured for sustained, technical climbing. For this climb I could've easily taken just the ALTITUDE harness, since I only used my harness for rappelling, not climbing. However, I find the SITTA exceptionally comfortable and unrestrictive of movement, so I chose to bring it despite the weight penalty relative to an ALTITUDE harness.
18) Patagonia Ascensionist 25 Backpack
A very simple and lightweight backpack, with enough volume for all my clothing, food, and water.
19) iPhone SE
When the iPhone SE came out, the smallest and lightest iPhone (and therefore most appropriate to take into the mountains), I upgraded from my iPhone 5 straight away. For most of my life I've never carried a phone in the mountains, but in recent years I've begun to realize how useful a smartphone can be. On this climb I used my phone as my camera, and also as a GPS tracking device. I have a case made by a company called Kenu, which allows me to keep a lightweight lanyard on my phone, which to me is critical for using it as a camera in vertical environments.
20) Athletic Tape, Knife, Chapstick, Sunscreen
I always carry a small roll of athletic tape, which I think is useful for extremely basic first-aid applications, and also for quick-fix repairs. I also always carry a super-small knife with a serrated blade. In addition to chapstick I carried a tiny tin of sunscreen, which is plenty for an environment cold enough that I only need to apply it to my face.
21) ZIPKA Headlamp
For expedition use my favorite headlamp is still the classic and reliable MYO (with AA lithium batteries). For day-to-day alpinism, in a place like Chamonix, I am using the new ACTIK, which is very bright as well, but lightweight, compact, and rechargeable. The ZIPKA is definitely not as bright as the ACTIK, and you cannot adjust the angle of the beam either. However, the ZIPKA is incredibly lightweight and compact, making it a perfect choice for situations in which you expect not to use your headlamp, but want to bring one just in case. In mid May in the Central Alaska Range there is no total darkness, just a few dim hours, in which certain tasks, such as making v-threads, are aided by having a headlamp. I brought a ZIPKA in case I ended up rappelling during the darkest hours, but in the end I climbed fast enough that I never needed to use it.
22) Adidas Terrex Pro Sunglasses
Unfortunately discontinued, these are my favorite sunglasses because of the optional nose-protector that they come with. In two decades of mountaineering I have sunburned my nose far too many times, to the point that the skin is somewhat damaged and more susceptible to sunburn. Having a nose-protector built into my sunglasses is far more reliable sun-protection that trying to keep sunscreen well applied on my nose. In addition, I used some repair tape to build "cheek flaps" into my sunglasses as well, for additional sun protection. The whole kit looks incredibly dorky, but #jenegiveafuckpas! Combined with an expedition beard and a headband or helmet, I hardly need to worry about sunscreen at all.
23) iPod Shuffle
I draw a huge amount of inspiration from music. I don't use it for technical climbing, but for snow slogging I find it a huge boon - What feels otherwise like toil becomes a joy! I listen to all different kinds of music in general, but my iPod shuffle is specifically filled with a lot of high-energy music, with some of the most prevalent artists being Tool, Prodigy, Offspring, Alice in Chains, Crystal Method, Nine Inch Nails, Rage Against the Machine, Nero, Filter, Knife Party, Marilyn Manson, Pendulum, Kyuss, Rammstein, Linkin Park, and Sub Focus.
24) SIROCCO Helmet
The SIROCCO was already my favorite helmet for a few years, because it is incredibly lightweight, and, unlike other super-light helmets, doesn't disintegrate in your checked airline baggage! The newest version has been modified to make it lower-profile on the top of your head, and the smaller size (the one I use) has been made a bit larger, which helps me accommodate a warm hat.
For all my skis that are designed as skimo race skis, I use race skins, which are pure mohair and have no tail attachment, relying instead on good adhesion with the skin glue. They are super lightweight, and have very good glide.
CLOTHING

1) & 2) Patagonia Synthetic Hoody
These are super lightweight synthetic insulation jackets that are coming out in September. I fortunately have a couple samples, and have been bringing one or both of them on almost every mountain endeavor that I've been on in the past nine months. One of the more exciting new products that Patagonia has come out with in a while, in my opinion, what makes these jackets special is a warmth-to-weight ratio that is extremely good. Most people who pick these jackets up for the first time mistakenly assume that they are down, not synthetic. I have one in size S and one in size M, so it is easy for me to layer one over the other, making a very warm, light, and versatile parka system.
I almost always carry some sort of shell jacket in the mountains, to be able to block the wind, and also to shed snow. In many instances I don't feel the need for a waterproof jacket, either because the weather forecast is quite solid, or because it is certain to be below freezing temperatures. Compared to a waterproof jacket, a Houdini jacket is not only much more breathable (and therefore more comfortable for aerobic exercise), but vastly lighter weight.
This provides a lightweight boost in overall warmth of my clothing system, and the nice thing about vests is that they don't add bulk to your arms, and therefore don't restrict your climbing movements very much.
One of my staple items of clothing for climbing in cold environments, this jacket provides a lot of insulation, but is much more breathable than high-loft insulation normally is.
6) Patagonia Capilene "Thermal Weight" fleece
A fleece mid-layer with a good warmth-to-weight ratio. I sewed on a couple chest pockets, to keep items such as energy bars, gels, or my iPhone close to my body heat.
Even though it is designed as a windbreaker, I have been using this item of clothing as my baselayer all spring. I find it surprisingly comfortable against my skin, and I find it gives me a wider comfort range than a typical baselayer when I'm not wearing anything on top of it - it feels light and airy, but when a little breeze picks up it doesn't cut straight through, like it would when wearing simple Capilene.
8) Patagonia Capilene "Thermal Weight" Balaclava
Warm, light, and comfortable, I find this balaclava to be "perfect," and it comes on essentially every alpine climb that I do. I almost never bring a toque above basecamp, instead just relying on this balaclava combined with my various hoods.
9) Patagonia DAS Pants
Unfortunately not available at the moment, these are a very well-executed example of a staple of expedition climbing: synthetic puff pants with side zips. For this climb I only put them on before beginning my many rappels down the North Buttress, but if I had climbed more slowly I would have likely worn them a lot more.
Just like with my Houdini jacket, these are more breathable and much lighterweight than a waterproof shell, and in consistently below-freezing temperatures I don't feel the need for a waterproof shell. I consider both the Houdini jacket and the Houdini pants to be the most useful and versatile items of clothing that I own. On this pair of Houdini pants I had a seamstress add a simple, zippered fly, to make it easier to pee if wearing them with a harness.
11) Patagonia NanoAir Light Pants
Like the NanoAir Jacket, these provide a lot of warmth but are much more breathable than synthetic puffy insulation normally is. I find them super comfortable to wear straight against my skin, with very little restriction of movement. The system of using these pants along with a pair of DAS pants, the same system I used last year on the Infinite Spur, is a system that is incredibly lightweight for the amount of total warmth.
12) Patagonia Capilene Boxer Briefs
These work gloves, made in Japan and distributed in the US by Atlas, were introduced to me by my longtime climbing friend, Dan Aylward. They are more waterproof than any other gloves I've used for climbing, and also have, I think, the best warmth/weight ratio of any glove I've used. They also are, surprising to me, INCREDIBLY durable, and on top of all that are quite inexpensive (about $20/pair). In the US the only people I know who use them are a small handful of folks that Dan has shown them to, and we purchase them at Seattle Commercial Fishing Supply (but they are also available on Amazon). In Japan, however, they are used by "all of the Japanese winter climbers," or so I was told in Kahiltna Basecamp by two Japanese climbers who were wearing the same gloves! The only thing about these gloves that doesn't work well for climbing is that they do not have any sort of gauntlet, so if you are climbing in snowy conditions then snow can get inside your gloves. For this reason I sewed a simple, lightweight gauntlet onto the two pairs that I brought on this trip (the green fabric visible in the photo). If you do decide to try them out, and order them on Amazon, then order a size larger than you would imagine (I wear size M in BD gloves, and size L in these).
14) Black Diamond Gloves
Discontinued already several years ago, I don't remember the name of these gloves. I like them because they are quite warm but retain enough dexterity for manipulating carabiners and doing things like making rappels. I never ended up wearing them for this climb, but I brought them just in case.
15) Patagonia Lightweight Ski Sock, Rab Vapor-Barrier Sock, Patagonia Ultralight Liner Sock
I started using vapor-barrier socks in Alaska last year, and during my epic descent from the Infinite Spur wearing just single boots, I was amazed by how warm my feet remained. I don't think that the VB socks themselves keep your feet much, if at all, warmer, but they keep your insulation dry, which in turn keeps your feet much warmer. I wear a very thin liner sock against my feet, then the VB socks, and then whatever normal sock that makes for the correct total sock thickness for my boots. The outer sock and my boots stay much drier than if I do not use VB socks. The one time in my life that I have gotten frostbite on my toes, it was not because my boots were not adequately warm for the temperature, but because my socks and boots were quite wet from sweat earlier in the day, lower on the climb. For me, the switch to using VB socks has been a "game-changer" in terms of how light of boots I am willing to use for a given climb.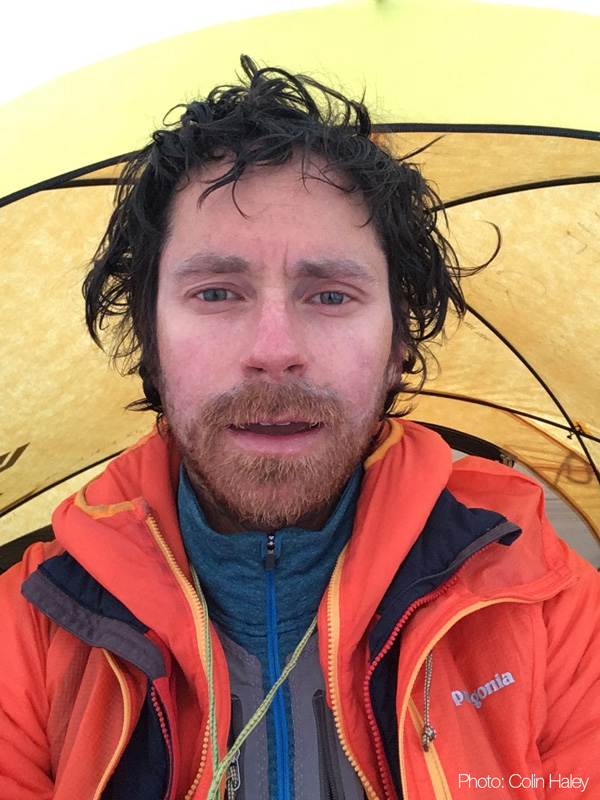 Included in this article