Downward evacuation: rescue kit
Warnings
Read the technical notice before viewing the following techniques.
It is important to fully understand the information provided in the technical notice before using this complementary information
Mastering these techniques requires training.
Consult a professional before attempting to perform these techniques on your own.
Lightweight rescue kit for transferring the victim's weight from his support element to a secondary rope used for the descent.
Warning: during an accompanied descent rescue, only the ABSORBICA L57 is approved as an energy absorber for the ASAP.
For more details, see the ASAP-specific technical information at www.petzl.com
Thanks to this system, the weight difference between rescuer and victim is not a significant problem.
Theoretical efficiency of the hauling kit: 3:1.
1. Hauling kit ready to be attached to the victim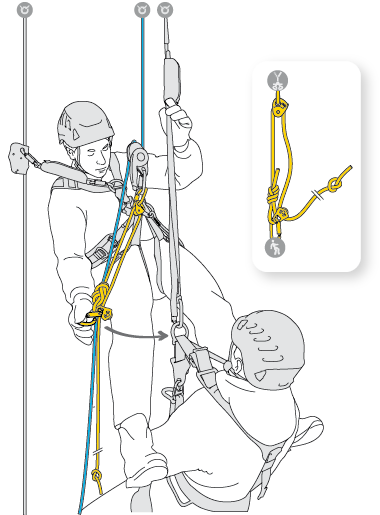 Warning: this technique works especially well when the victim's support element is static:
a fall onto an energy-absorbing lanyard, for example.
If the victim's support is not static, for example an EN 1891 rope, the victim's weight will stretch the support.
When hauling with the rescue kit, the stretch must be taken out of the rope before the victim can be unhooked.
The rescue kit must therefore be equipped with a rope of sufficient length to adapt to the situation.
Examples for a victim suspended on a semi-static rope with an elongation under load of 4 %:
- If the victim is 15 m from the anchor, the elongation is 0.6 m. The rescue kit rope must measure at least 4 m (3 x 60 cm to take out the stretch + 3 x 50 cm for unhooking + margin for the knots).
- If the victim is 50 m from the anchor, the elongation is 2 m. The rescue kit rope must measure at least 9 m. In this case, the rescuer must descend to the victim to attach the rescue kit, then ascend 3 m above to start hauling/unhooking.
2. Hauling/unhooking the victim
The rescuer should tether himself to the victim as soon as possible. Unhooking and descent must be done with two points of attachment between the victim and rescuer (kit + lanyard)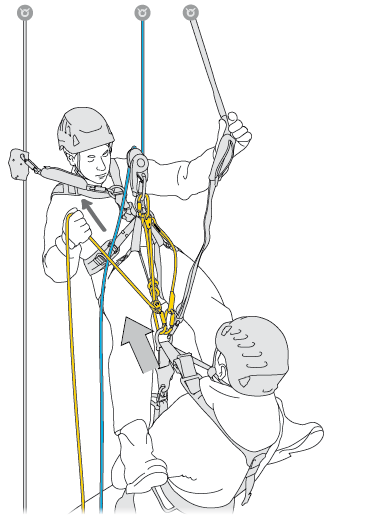 3. Victim loaded onto the rescuer's descender, ready to descend.
For an accompanied descent, it is necessary to use a braking carabiner.
This carabiner should be connected to the descender's carabiner.
See the technical information specific to the RIG and the I'D at www.petzl.com