Steve McClure
I prefer climbing at the crags near my home: "I'm primarily a sport climbing specialist, and probably much better at short technical routes than anything multi-pitch. I prefer the routes close to where I live. I just naturally adopted this lifestyle. When I was a kid, I was always traveling with my parents, who were climbers. I never really chose this lifestyle, I just knew it was the way I wanted to live. Rock climbing and being outside in nature are simply part of my life. At first, I climbed a lot of trad. I improved quickly and had a hard time finding the right trad routes for me. Since then, sport climbing has allowed me to experience the physical challenge of climbing, while also allowing me to spend time outside with friends. My profession is climbing. I work locally, near my home. I have a special connection with climbing in my country. I think you have to like the place where you live."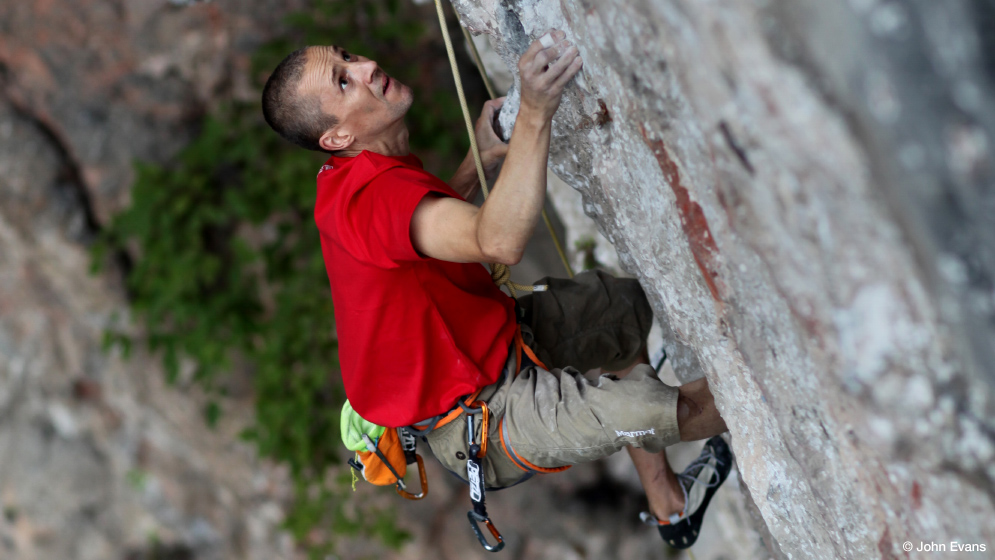 Profile of Steve
Date of birth : July 25 1970
Current status : Teacher, coach, route setter, writer, lecturer
Hometown : Sheffield (United Kingdom)
Activities :

Rock climbing

Training :
Joined the Petzl Team : January 1 2000
Presentation
I love my country
"There are so many places I like to be; I have a different relationship with each. I live close to several wonderful climbing areas, in a nice environment, with the city close by, yet so far away. I spend a lot of time here. I'm also fond of those incredibly beautiful, out-of-the-way places in England, Scotland, and northern Wales, far away from civilization. Being there is healthy, and the force of nature is unbelievable. It's an adventure to enjoy.
I also spend time climbing at cliffs throughout Europe: Rodellar, Teradettes, the Verdon Gorge, Buoux, Ardèche, Osp, and Arco. Among those spots, the Verdon Gorge holds a special place in my heart, since I spent a lot of time there as a kid, from the age of four. I didn't climb at the time, just mostly played in the creeks. Then, when I was sixteen, I spent two months there, which almost certainly turned out to be a pivotal point in my life as a climber. When I go back to the Verdon Gorge after a long absence, I usually stop the car at Le Belvédère just to take it all in: the spectacular view from the edge, the feeling, the smells, the sounds, the air rising towards me, and the view of perfect gray rock everywhere."
Photos
Videos
Video playlist featuring Steve McClure :
A professional partnership
"I worked as an engineer for seven years, sitting at a desk, doing design work. I have the engineering spirit, which probably helps me a lot when I climb. But that kind of lifestyle wasn't for me. Doing the same thing, day in, day out, in an office environment just didn't suit me anymore. Now I'm really involved in climbing. My schedule is flexible and my work varied. I've gotten to a point where I no longer need to look for work; it comes to me at an accelerating pace. Putting up routes, coaching, teaching, giving lectures, writing... None of it pays a lot, but I like what I do. I'm lucky enough to be able to choose my projects and to give priority to the places and people I work with. I have regular contracts to put up routes, and in those cases, I'm able to stay with friends. I work hard, but I'm having a blast."
The desire to see things through
"I have a lot of energy to give to the things I like to do. Energy usually goes hand-in-hand with tenacity and the desire to see things through. In climbing, you need to apply yourself. I have the tenacity to give it my all, and the more I give, the more I succeed. I like to push myself to the limits of my abilities. "The glass is half full" is my motto. When you're clinging to a bad hold that you thought would be better, thinking about how awful the hold is only creates negative energy. You're better off thinking the hold isn't so bad."
The future is in the present
"I don't think too much about where I'll be in the future. I don't have a retirement fund or job security. And yet I've got a kid. Is that irresponsible? Perhaps, but that's just the way I am. Up until now, everything has worked out. I think that you make your own happiness by working hard and not cheating. I've never gotten anything for nothing. I like my life as it is. I don't feel the need to share my past experiences with others; that's all behind me. However, it is important for me to share what I'm experiencing at the moment I'm experiencing it."
Other informations
Books
"Sport climbing plus" éditions Rockfax, 2007
Films, videos
"Hotel Supramonte" a film by Adrian Berry
"Depth Charge" (X1 Sports production)
"Psyche" a film by Alsitair Lee (Posing Production)
"Hard XS" a film by Rich Heap
"Comitted II" (Babboo chicken production)
Major ascents
Malham Cove (North Yorkshire, United Kingdom) "Overshadow" (9a+) 2007.
"This is the route I remember the most because it took me so much time. The achievement also coincided with a real mental battle that included injuries, becoming a dad, moving, losing my job… I established a friendship with this route, and it provided me with an escape from the world every time I tried to send it. I didn't need to succeed quickly. I would even say that I didn't want to send it quickly, on purpose. The route was my friend. I simply chose the appropriate difficulty to push myself to the limit, allowing myself to succeed at the right moment, sending the route when my life was back in order."
Island of Pabbay (United Kingdom) "The Great Arch" 2010.
"I really enjoyed myself on this superb trad route."