Nicole Berthod-Grange
We live in the middle of the Alps, the mountains have always been a great playground for my family and myself. I started mountaineering with my family, first by doing some easy trekkings with my parents, then by climbing more technical stuff with my brothers and my sister. After this first impulse, I guess what really got me into the mountains is the wish to explore new places, meet new friends and play new adventures.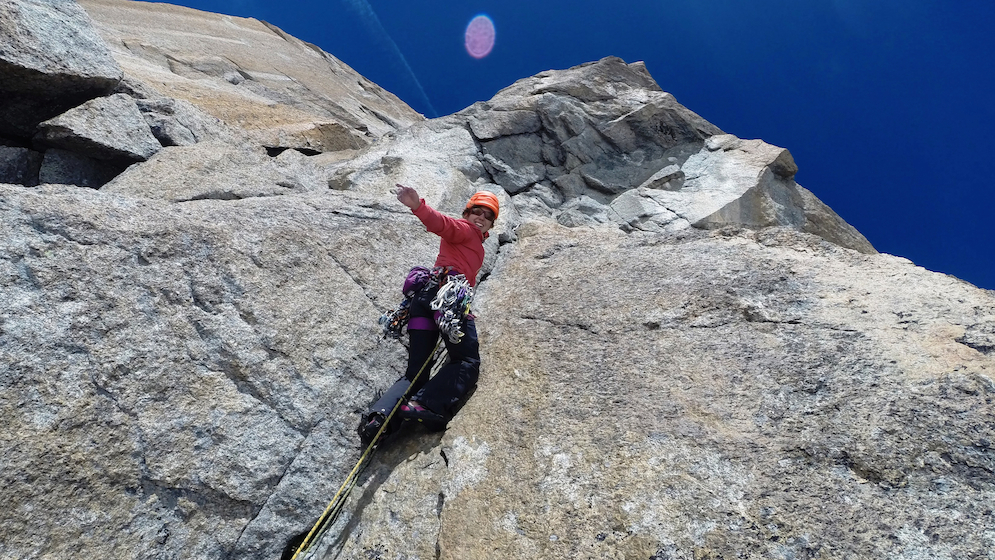 Profil de Nicole
Date de naissance : 17 Février 1988
Statut actuel : Guide de montagne
Lieu de résidence : Sion
Activités :

Alpinisme, Escalade sur glace

Formation : Sciences du sport et Géographie
Date d'entrée dans la team Petzl : 27 Juin 2014
Présentation
I was born in the middle of the Alps in a family of 4 children. My parents love the mountains and so we would spend every free moment in the outdoors, skiing or walking around. I started mountaineering with my family, first by doing some easy treks with my parents, then by climbing more technical stuff with my sister and my brother. After this first impulse, I guess what really got me into the mountains is the wish to explore new places, meet new friends and play new adventures.
Later, when training for the guiding course, I discovered mix climbing, which was a real "love at first sight". Before that, for me mix climbing was something crazy, only reserved to "machines": I discovered a magic world: the mountain all white in winter, a silent atmosphere, the commitment, beautiful landscapes…
Then, as I wanted more of it, it turned into more alpine climbs, as well as multi pitches ice climbing routes. Climbing is an activity I love, either on ice or on the rock and I love to travel for climbing.
By now I'm a certified IFMGA mountain guide. I finished my formation in September of 2013, at the age of 25. Simultaneously, I also achieved my Master in geography and sport sciences at the University of Fribourg. I mostly guide in the Alps, but I also have guided in Sweden and hope to travel around for guiding.
What is your main activity and do you have a specialty?
My main activities are climbing, mountaineering and skiing, as a hobby and as a guide. We are very lucky to have seasons which make us switch activity every time of the year. In the summer, I mainly climb, and at the end of the season I'm very happy to change my climbing shoes for ski shoes or crampons.
I'm more the all-rounder than super good at one thing. My favorite activities are rock and mix climbing, but I also love running, biking, slake lining… And of course, reading, and chilling too ;) !!
But I'm also a very curious person and I like to discover and experiment new activities and new ways of life. This brings me a good balance between the mountain world and the "real life".
How does this activity enrich you and what do you like or dislike about it?
I like to meet new people and new places, to exchange with others and to share good moments with good friends. I also like to enjoy the beauty of nature, and to look at it. Looking at the beauty of nature, but not just looking. Looking with a gaze that brings you out of yourself, and that makes you feeling to be a part of this.
But for me, the mental aspect is also really exciting. I like the energy that the mountain brings you back after a great climb and after having pushed yourself beyond your limits. I love the feeling of concentration, the feeling that you have no choice to be here and now if you want to achieve your goal.
For me, being in the outdoor is a place where you can find yourself, a place to think and to center yourself, a place to share moments with other people and also a place to sometimes stop the rhythm. A place where you feel humble and almost nothing. It's good to find places like this now, as everything around us is rushing... In the mountains, I really feel the value of human life, the chance to be there, and the mystery of our human condition.
In contrast I don't like the ego that is sometimes growing bigger than the mountains. Furthermore, being in the mountains involves all of your person. I find it difficult to still be connected with people having a "normal life", to still adapt. I feel it's important to be part of this world and not to neglect other lifestyles.
What are your striking achievements and what are your plans for the future?
Several ascents left some great memories on me, such as the Eiger north face with my brother Cyrille and my husband Sylvain, or also crazy climbs in crazy places such as the Wendenstöcke: There, I spend very funny days with a lot of space between the protections! ;) It makes you love the life!
I loved to climb Crack Baby, an awesome icefall in the Bernese Alps, with my good friend Caroline George. This was a great moment spend together and a chance to climb this awesome icefall in a girl team. This summer, we also managed to climb the Colton-MacIntyre in the Grandes Jorasses. Conditions on this face were super good and it was amazing being able to do such a climb together. For me it's important to climb in girl parties, to show that it's also possible for girls to go in the mountains by themselves, and to maybe inspire other girls, bring girls in the mountains, and bring them confidence...
A great memory was also my first guiding day. It was for a multi-pitch ice line, and, waoow, it was a great day with great guests!
Fotos
What are your favourite spots or places?
Chamonix for it's amazing crack climbing and mix climbing, and it's amazing landscapes. The north of Italy (Orco, val formazza), because Italy is just so relax!! Great cappuccinos, good food, nice cracks and great atmosphere!! Camp4 for the atmosphere of the place, the funny people you get to meet there, the nice parties you make in the evening and the greeeeat climbing around. Taghia because of it's amazing walls, it's incredible atmosphere.
Your relationship with Petzl? Why are you a member of the Petzl Team?
For me Petzl is the very best manufacturer of mountain material, and for my activities as a guide and as a mountain passionate I wanted to share the best with other people. Petzl is also innovative and I feel close to the brand as Petzl is also very engaged in Switzerland, with Fred. And being part of the team brings me a huge motivation and a huge energy!
Where do you find strenght, energy and inspiration? What drives you, affects you
I gain a lot of energy through my family, through friends and through the beauty of nature. These special atmospheres and special people transmit me the passion, the willingness and the motivation I need for my activities.
People I admire are mainly people that "go out of the ways". This can be in various lifestyles!! For example music, arts, sports, or more social/spiritual aspects.
More specific, in rock climbing, I found Lynn Hill extremely inspiriting, as she opened new ways and showed to people that women had a lot to give to the rock climbing world. Crazy people like Killian Jornet are also very inspiring: For me, it feels that Killian is doing his sport with a lot of deepness. Waow!
Do you like reading and which are your favorite books? Do you have a favorite film, charcter and mentor?
I love reading books from several kinds: true stories, anticipation books, novels... (Brave new world, 1984, Siddhartha,…). I also looove reading comics. However, I don't have a favorite book. It depends of the mood of the moment. Concerning films, I like films that explain the world, in different manners: The constant Gardener, Persepolis, les Triplettes de Belleville, Home, Samsara …
Do you have a personal motto?
"N'ayez pas peur de rêver de grandes choses!" from Pape François
And… Go for it !!!
Do you wish to transmit what you have learnt, experienced? With whom and how?
Still learning sooooo much!! ;)
But for sure!! I try to connect with other girls wanting to do some mountaineering or already doing so. I hope to be able to share with them my passion for climbing, and showing them through my life style that mountaineering is no more a man's world. It's possible to go in the mountains in a girl team, and it's possible to enjoy the mountain whatever your level is. No need to have big arms and a long beard to be up there! ;)
Where do you think you will be in 5 year's time?
NO idea!!! One step after another ;)
Finally, could you tell us a story concerning a specific memory of yours?
In the year 2007 I travelled through the states and Canada. I was there by my own and I knew that some friends where in Yosemite for climbing. I only had my harness and climbing shoes with me, as I was backpacking for 3 months. When I arrived in camp4, I met a friend of mine wanting to go to the Nose. I had no idea of aid climbing, and I didn't expected to go there so spontaneously. But ok, why not! I would anyway follow jumaring! ;) The first day, we went fixing the ropes. My friend was leading. And after a few pitches, he lost his climbing shoes. No other choice to lead. So.. I quickly had to learn aid climbing! And it went pretty well. We fixed the ropes, went down to camp4 for a rest day and went for the route the two next days. It was in November, the atmosphere was really special as nobody was around at this time of the year. We were alone on the Capitan!! On our first bivy, I was worried about my friend as he had such an agitated sleep: he was moving and shouting during the night, always. I was sure I would find him in the morning hanging at his harness!! ;) It was a really nice ascent, we had a great time on the wall!