Recovering quickdraws in an overhang while descending
It is difficult to clean quickdraws from an overhang. The "cable car technique" allows the climber to conserve energy and avoid doing a pendulum at each draw. The greatest risk of hitting an obstacle comes when approaching the ground. Some solutions for reducing the risks:
Warnings
Read the technical notice before viewing the following techniques.
It is important to fully understand the information provided in the technical notice before using this complementary information
Mastering these techniques requires training.
Consult a professional before attempting to perform these techniques on your own.
1. Descending the route
Once the rope is installed in the anchor, the climber connects a quickdraw to his harness and to the belayer's side of the rope.
This draw allows him to remain close to the quickdraws he is removing.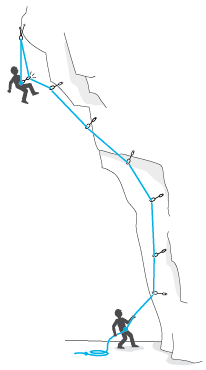 At each quickdraw, the climber must unclip the bolt end of the quickdraw.
There are two techniques:
- the climber uses a hold to pull closer to the rock and unclip the quickdraw
- using a dynamic movement while holding the carabiner, the climber moves toward the rock and unclips
Once the draw is unclipped, the climber will pendulum and so the belayer must be well braced.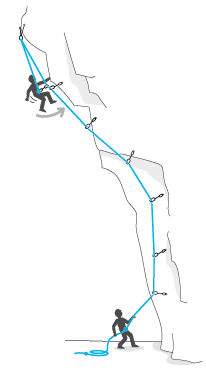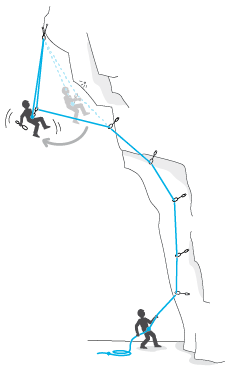 2. Approaching the ground
The risk of a pendulum is greater when the overhang is bigger.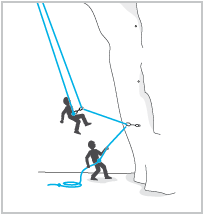 Before removing the last draw, the climber must unclip the "cable car" quickdraw to avoid destabilizing the belayer.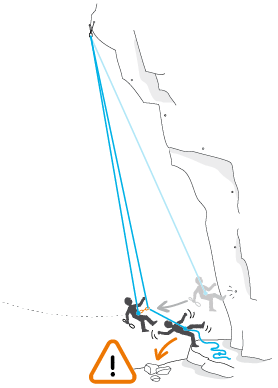 ---
At the last quickdraw, the climber must look behind to see that there are no obstacles in the line of the pendulum.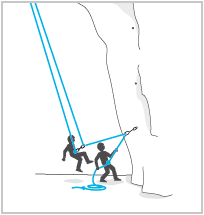 When an obstacle is unavoidable and the quickdraw is recoverable from the ground, the climber may be lowered with the last draw left in place. This technique works if the quickdraw is not too high or difficult to access.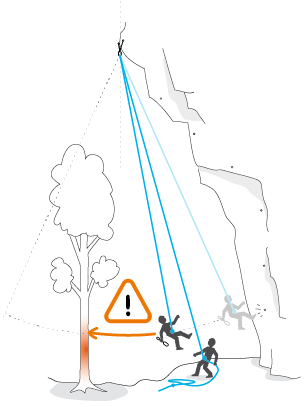 ---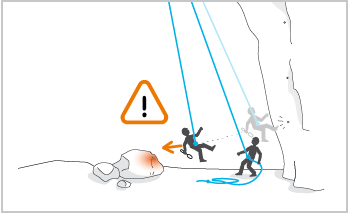 If the pendulum at the last draw is risky and the bolts are relatively close to one another, the climber can clip into the second-to-last draw. He then unclips the last draw and frees the belayer's rope (draws and "cable car"). The belayer takes up all the slack; the climber grabs onto a hold and unclips his lanyard.