Antony Lamiche
A need for freedom and pure air : "My star sign is Cancer. I have my head in the clouds. My life is a constant search for physical and mental well being in the natural environment, with passionate people who exude energy. I like to share beautiful stories through photo and film, with joy and good humor. In terms of activities, bouldering is my guiding line, but climbing at crags and in the mountains have always been an important part of my life. Climbing is the most natural form of movement that exists. It's thanks to my climbing that I live in the most beautiful places in the world endlessly discovering and meeting… I am hooked on climbing, all of it makes me happy. Skiing also, because powder skiing is an instant pleasure. In short, what I like the most and what I'm best at are bouldering, skiing and eating."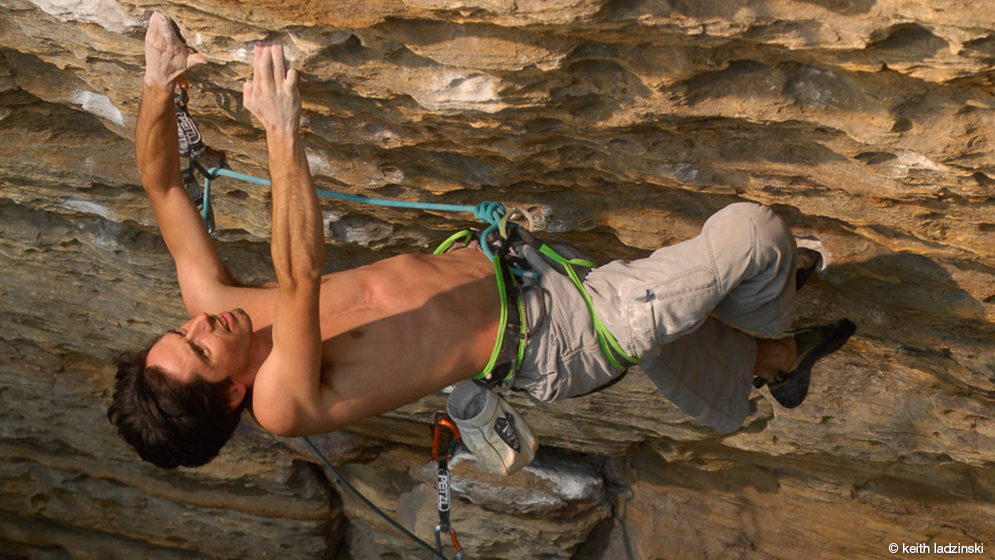 Profile of Antony
Date of birth : July 15 1977
Current status : professional climber, mountain guide
Hometown : Hautes-Alpes, France
Activities :

Rock climbing, Bouldering

Training : ENSA, mountain guide, ski and climbing instructor
Joined the Petzl Team : January 1 2001
Presentation
Like a Zen garden
"My favorite places are bouldering spots because they have a truly unique energy; Rockland in South Africa is a good example. It's a little bit like a magnet that attracts fitness and joy. Discovering these wild places and meeting good people is pure happiness for me."
My life style can be defined in one word: free
"My network is comprised of climbers, mountaineers and freeriders. I feel close to passionate people, people who wake up in the morning with desire. The people I work with are people I feel good being with. It's simple. The climber who inspires me the most is Philippe Ribière (Petitou). The person who has touched me the most, literally as well as figuratively, is my wife. We share everything. If I was not a professional boulderer right now, I would be a professional skier or carpenter."
My objective in life is to communicate through the most beautiful images possible
"The only thing I'm missing is time. I can't accomplish everything. I'd like to be a sports genius so that I could better understand my body and move more easily. The perfect day would start with fresh oranges for breakfast, then bouldering – I'd be happy with sandstone or granite – then biking without going too far into the red zone, then a little bit of skiing at sunset,followed by a good night amongst friends."
Tony's anecdote
"Success or failure means almost nothing. Sometimes you have to force destiny. The day I tried "The Fly" (New Hampshire, Quebec), I almost succeeded on the second try but bad weather,poor fitness… But one morning at the end of the trip – it was time to leave for another area – I woke up motivated. So just before going to the airport I took the car and went back for one last try – I sent it."
Photos
Videos
Playlist video with Antony Lamiche
Other information
Book
"Étoiles et Mont Blanc" Pierre Carrier, Pierre Maillet, Jean-Michel Asselin, illustrations by Anthony Lamiche, PhillipeSchaff, edition Glénat, 2009.
Films
"King of DaCailasse" – TLC production (Short film summarizing my life since I joined Team Petzl.)
Major ascents
Competition
French Champion (bouldering) 1999 and 2001
Bouldering
The Buttermilks (California USA) "Mandala sit-down-start" (FA - 8b) 2007
Vallouise (France) "San kukai" (9a) 2008
Included in this article