Mechanical performance
Strength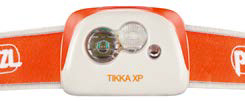 The mechanical strength of headlamps is verified with fall, shock, and crushing tests. These tests are performed twice on the most fragile parts of the six faces of each product: lens, rotator dial...
They include:
- fall tests: headlamps undergo a fall of 2 m, and then 1 m
- shock tests: tested with a weight of 500 g dropped from a 40 cm height
- crushing tests: a mass of 80 kg rolls over the lamp
Reliability
Function tests verify the mechanical endurance of the moving parts of each product. Each function is tested with the help of an automatic test bench in order to ensure proper functioning and reliability over time:
- selector button
- plate
- battery pack...
A supplementary test subjects the headlamp to strong vibrations.
Individual testing
Before leaving the assembly line, all Petzl headlamps are individually inspected. These operations include a measurement of lighting performance carried out with a specific digital camera, and a test for water-tightness.