Lynn Hill
A passion: "My primary activity is rock climbing and bouldering, but sometimes I climb longer routes. I love to go climbing with my friends on good quality rock. My favorite rock is well-featured limestone with big stalactites. I learned to climb when I was fourteen years old with my brother and my older sister. I had absolutely no idea that my life would be this beautiful because at the time, this lifestyle was not really an option. My lifestyle has changed as I have continued to live my passion for climbing and I am very grateful to have had such a beautiful life so far."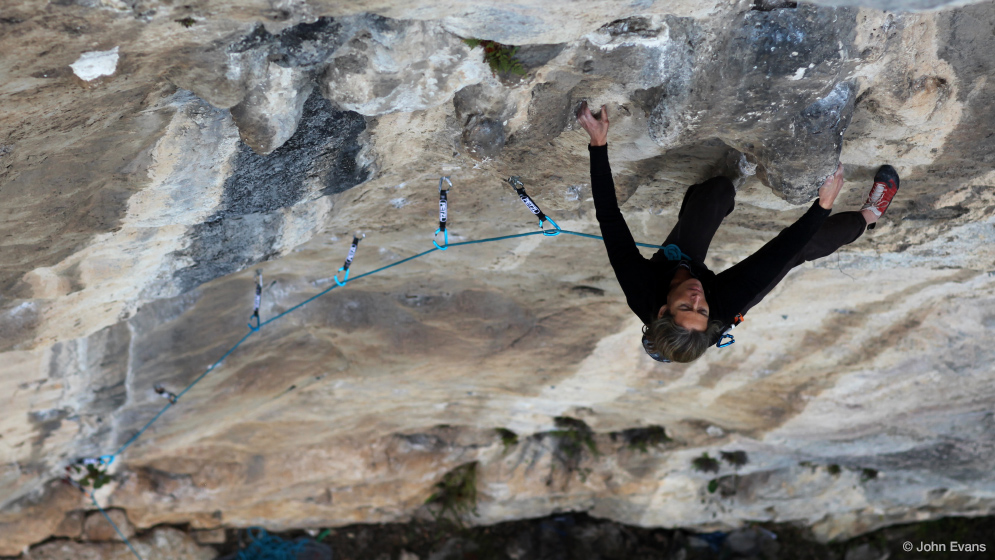 Profile of Lynn
Date of birth : January 3 1961
Current status : ambassador for the brands Patagonia, Petzl and Béal
Hometown : Boulder, Colorado, USA
Activities :

Rock climbing

Training : Masters degree in biology from State University of New York at New Paltz followed by studies in psychotherapy
Joined the Petzl Team : January 1 1989
Presentation
"Climbing is my therapy! It allows me to stay healthy and to be happy at nearly every level of existence. And what climbing does not bring me in terms of life balance I have been able to find in other aspects of my life with my son, my family, my friends and through various projects that I am now working on."
Still climbing
"I am often referred to as one of the best climbers in the world. As one of the most famous American climbers… From the beginning of my childhood, I started with gymnastics, running and of course lots of climbing when I was a teenager. In 1978, I was already considered to be among the best in my category because I adhered to a style of climbing very close to the most stringent criteria in the U.S. (placing nuts, a method of climbing straight up the overhangs). In 1979, I was the first female to climb a route rated 5.12d.I discovered competitive climbing on a trip to France in 1986. I was soon leading the circuit and I won more than thirty international competitions including the Rock Master d'Arco in Italy five times. And since then I've tried to match myself. Anecdote: I was invited to the White House and often asked to be on American television to talk about my experiences…
As I will be 50 years old in 2011, I will celebrate by climbing more. I want to find the right balance between being a good mother and a good person. Why not celebrate by getting more involved in the activity that I have loved so much for the past thirty-five years?"
Photos
Videos
Goals ?
"Of course I have goals! I am always working on projects involving education, public speaking, writing, and different media like photography, video and radio interviews. I would like to share my passion and my different experiences with everyone who is interested, especially young people who have so much to learn from life! For the past three years, I have worked on a video about climbing techniques, which integrates the elements of culture, history, and psychological anecdotes that have influenced my progression as a free climber over the past thirtyfive years."


My aspirations
I want to divide my time between climbing, running, skiing, traveling to the most beautiful places on the planet and my son Owen.
In the years to come, I would love to create a company that will design and build climbing structures for playgrounds and parks. I think it could bring together communities and people of all ages in a useful and pleasant way.
I love to tell my story, to push myself and to ask myself about the meaning of life, and address the challenges as well.
I do not like to see people suffer.
I do not like to see the planet deteriorate and the way it affects all forms of life on Earth.
The most difficult thing for me is to maintain a healthy balance in a hectic world.
If I was not a climber, I would be a surfer on a beautiful island where the water is crystal clear.
I want fresh fruit, unpolluted fish, to have a beautiful garden surrounded by a loving community and huge limestone cliffs, which would be located on one of the nearby hills of the island.
I want good food.
I want wonderful days of climbing in an incredible place with my friends, a bit of laughter and all the material comforts that I love!
Other informations
Books
"Climbing Free: My Life in the Vertical World" – W.W. Norton & Company, 2000
"Ma vie à la verticale" – éditions Guérin, 2002

Films, videos
Madagascar: A Women's Ascent
Vietnam film
Lynn and the Petzl team
"I have been a part of Petzl Team since 1989 and I believe in Petzl's values and products. I love to participate in the annual Roc Trip because it is a true celebration of climbing where I can meet old friends from all over the world. We have the opportunity to discover new climbing spots, to meet new people and to share our passion for climbing with others. It's also the chance for me to give my feedback on the equipment so that the gear continues to evolve to meet our new needs."
Major ascents
Competitions
First place Climbing World Cup (lead), 1990
First place at the Rock Master Invitational d'Arco (Italy), lead climbing in 1987, 1988, 1989, 1990 and 1992
First place, Masters de Bercy in Paris, lead climbing in 1988, 1989 and 1990
Recipient of the Robert and Miriam Underhill Award presented by the American Alpine Club, 1984
First place in the "Survival of the Fittest" competition on NBC's "Sports World" in 1980, 1981, 1982 and 1983
Third place at the California State Championships in 1500meter running, and fourth place in 3000meter running, 1982

Climbs
First free ascents
Telluride, Colorado, USA – "Ophir Broke" (5.12d) 1979
Independence Pass, Colorado – "Pea Brain" (5.12d) 1979
Taquitz Rock, California – "Stairway to Heaven" (5.12) 1979
Granite Mountain, Arizona – "Coatimundi Whiteout" (5.12) 1980
Red Rocks, Nevada – "Levitation 29" (5.11) 1981
Joshua Tree, California – "Hidden Arch" (5.12a) 1981
Joshua Tree, California – "Blue Nubian" (5.11) 1982
Shawangunks, New York – "Vandals" (5.13a) 1984
Shawangunks, New York – "Yellow Crack Direct" (5.12c) 1984
Shawangunks, New York – "Organic Iron" (5.12c) 1985
New Hampshire – "Tourist Treat" (5.12c) 1985
Shawangunks, New York – "Tweazle Roof" (5.12d) "Girls Just Want to Have Fun" (5.12x) 1987
West Virginia – "The Greatest Show on Earth" (5.12d) 1988
Shawangunks, New York – "Running Man" (5.13d) 1989
Cimaï, France – "Masse Critique" 1990, the first 5.14a completed by a female
Frankenjura, Germany – "Simon" 1992, first woman to onsight a route rated 5.13b
El Capitan, Yosemite Valley, California – "The Nose" 1994, first free ascent in 23 hours, with one pitch of 5.13c and one pitch of 5.14a
Gorges du Verdon, France – "Mingus" (onsight / 12 pitches of 5.13a) 1994

First ascents
Kyrgyzstan, west face, 1200 m wall at 4810 m (5.12) 1995
Kyrgyzstan, "Perestroïka Crack," 3550 m wall on Peak 4240 m (5.12) 1995, with Greg Child
Halong Bay, Vietnam – seven routes on limestone towers, 1996
Gorges du Todra, Morocco – "Tête de Chou" (5.13b) 1997
Yosemite, California – "Midnight Lightning" 1998, first female ascent
Smith Rocks, Oregon, USA – "To Bolt or Not To Be" (5.14a) 1998, first female ascent
Smith Rocks, Oregon, USA – "Scarface" (5.14a) 1999, first female ascent
Tsaranoro Massif, Madagascar – "Bravo les Filles" (610 m / 13 pitches rated 5.13d/A0, 5.12c obligatory) 1999
Camp 4, Yosemite, California – bouldering "Midnight Lightning" 1999
Rifle, Colorado – "Sprayathon" (5.13c) 2004, first female ascent
Vinales, Cuba – "Viva la Liberdad" (5.12b) 2004
Included in this article