Lowering from a fixed anchor-point
Warnings
Read the technical notice before viewing the following techniques.
It is important to fully understand the information provided in the technical notice before using this complementary information
Mastering these techniques requires training.
Consult a professional before attempting to perform these techniques on your own.
If you need to lower a person from an anchor:
Install the rope in the GRIGRI, making sure to place it in the device in the right direction. Connect the GRIGRI to the anchor with a locking carabiner. Lock the carabiner.
Add a directional carabiner. This must be placed above the carabiner connecting the GRIGRI to the anchor.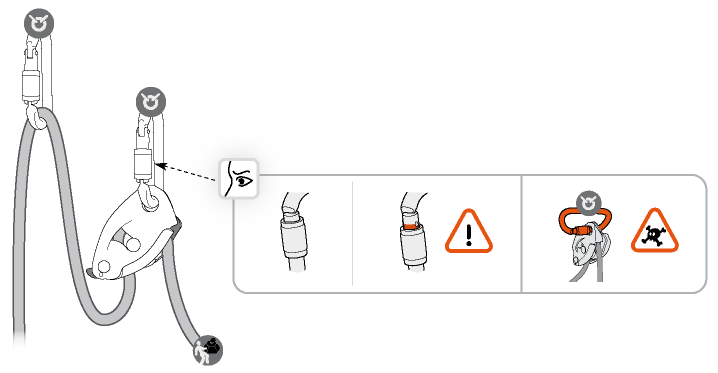 The belayer takes up slack and holds the brake side of the rope. The person being lowered puts his weight on the rope and disconnects from the anchor. To lower the person, the belayer pulls the handle while holding the brake side of the rope. Never let go of the brake side of the rope.