Said Belhaj
Climbing as a way of life: "For Team Petzl climbers, rock climbing is a way of life that goes beyond passion. We climb on a daily basis and can never get enough. It's a lifestyle that never stops, even if it's not always possible to earn enough to live off of climbing. The sport is connected to life, to nature. Being outside and climbing all the time is almost animallike. Traveling, meeting people, and sharing something that didn't exist the day before provide infinite social value."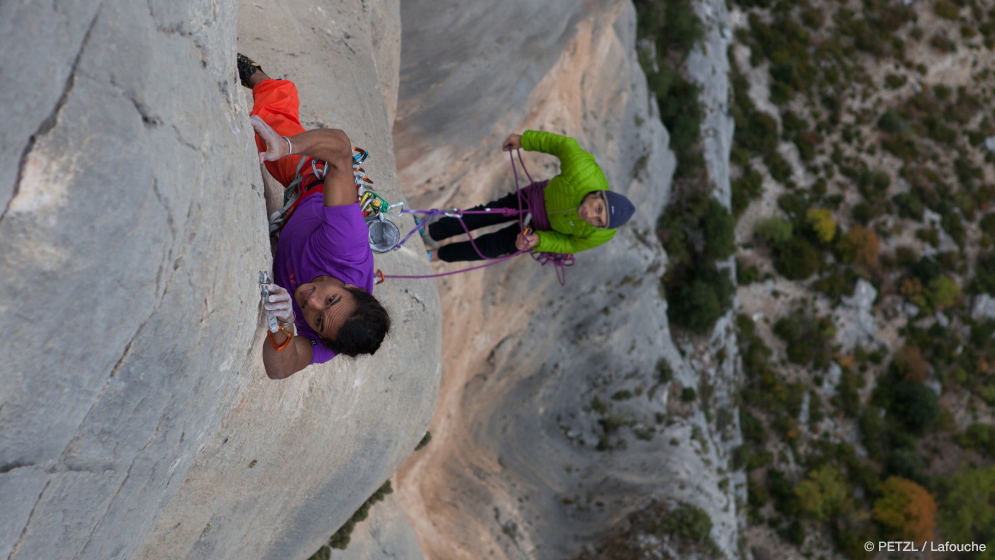 Profile of Said
Date of birth : June 18 1981
Current status : Professional climber and musician
Hometown : Gothenburg (Sweden)
Activities :

Rock climbing, Multi-pitch climbing

Training :
Joined the Petzl Team : January 1 2005
Presentation
"I discovered climbing around the age of 10, when I was still climbing trees. Since then, I've been climbing on a regular basis in one way or another. I was on the Swedish national team for 10 years, participating in competitions all over the world. Since I prefer being outside "on the rocks", climbing indoors is hard for me. I'm currently involved in all the climbing disciplines: bouldering, sport climbing, competitions, big walls."
The paradox of competing
"As an active member of the Swedish national team, I've come to realize that it requires a lot of time and investment to create positive energy within a closely knit group. I'm a pretty social guy, and the people in my life mean a great deal to me. I can't just go to a competition to win and forget the rest. The best competitions are those which foster a good atmosphere and energy among the competitors, the organizers, and the public. The goal in a competition is supposed to be beating others and being the best. But I've got a lot of respect for the other competitors, and want to help them do their best, and even win in my place, which is definitely a paradox I have to deal with."
Photos
Videos
Playlist Vidéo featuring Said Belhaj
Free climbing and onsighting
"In general, I feel good when I'm onsighting, at the limit of my abilities. Climbing on rock in remote corners of the planet makes the adventure even more interesting. I prefer onsighting to redpointing a route; it allows me to focus 100% on the moves at hand and on the route's difficulty. The fulfillment I get from onsighting is closely linked to the discovery and exploration of climbing. You really need to be able to improvise. You discover what's going to happen at the same time that it's happening, as if you were both an actor and a spectator at the same time."

The spiritual element of climbing
"Above all else, climbing for me is an excuse to meet different people and travel to places I probably wouldn't have otherwise discovered. I also really enjoy the exciting aspects of the sport and the different challenges that go along with it. Regarding the spiritual element of climbing, it's a type of meditation through movement that takes me to different spiritual levels.
My life is inspired by the mental aspect of climbing, by music, and by my dreams. My daily goal is to create a healthy lifestyle through everything that encompasses climbing. When I'm not climbing, I like to do things that enrich my life. I like to convey the notion that there are many different ways to live your life, not just the clichés that western society currently offers. I do a lot of other things, simply because I can't climb 24/7. I like to play music, run, ride my bike, swim, sometimes all at once. I also like dance, qigong, meditation, photography, and good books. The most important mentor in my life is my music teacher, Christer Bothén, an extraordinary musician who is almost seventy years old and who has always lived his passion."
Other informations
Films, videos
Move on up
Kjuge på Kjuge
Slap it, Grab it, Pull it down
Swedish Meatballs
50 year later – climbing in the Crimea
Crackoholic