Philippe Ribière
Growing up: "Day after day, I free myself from my handicap. It's wonderful, and thanks to climbing the results have been amazing. I was born with what considered at the time Rubinstein-Taybi syndrome, but today the diagnosis has changed and it is supposed to be something else, a mutated form waiting to be confirmed by official analysis. After a series of surgeries my adoptive parents encouraged me to play sports to help provide me with a sense of fulfillment. At the age of six, during a family holiday in St. Gervais, France, I discovered the joys of climbing. I was worried about the rappel, since I did not know if I was strong enough to hold the rope. My instructor added a safety rope and I launched myself into the void. I remember being panicked and happy at the same time, as well as proud that I could do the same thing as my brothers and sisters. When I reached the ground my legs were trembling and my heart was racing."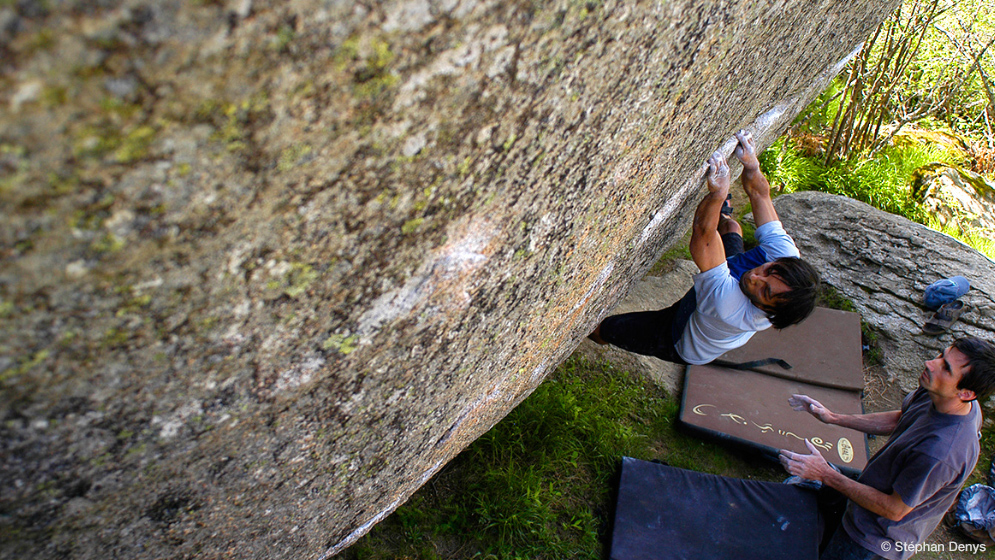 Profile of Philippe
Date of birth : March 12 1977
Current status :
Hometown :
Activities :

Rock climbing, Bouldering

Training : BAC in accounting, Vocational Training Certificate in management
Joined the Petzl Team : January 1 2002
Presentation
Several years later I renewed the experience on a camp for teenagers.
"Our daily routine included mountain biking, kayaking, hiking and climbing. On returning home I was keen to join a cycling club. By bad, or perhaps it was good luck, the director of the club refused me a license without giving any explanation. So I joined a climbing club and two years later I got to the finals of the junior championships in France. It was a moving experience as it was my first journey where time did not matter. We had fun, we went to bed, late we forgot about healthy eating and above all we were free. It is possible that this journey had a great influence on me. Today my main activity is sport climbing with a preference for bouldering. Climbing gives me confidence, feeling in my arms and legs and the simple pleasure of being outside. Climbing fulfills my need for commitment. Climbing gives my life a purpose. Climbing allows me as an individual to reach a certain social level, to meet the best climbers, to organize events for people of reduced mobility thanks to Handigrimpe and the Evolution Tour."
Photos
Videos
Playlist vidéo featuring Philippe "Petitou" Ribière
)
My motto is precisely that I don't have one
"Nothing is difficult. Everything is a question of acceptance and perception. My handicap is the most precious gift that nature has given me and overcoming it is the best way of finding myself. I don't forget that I am only a grain of sand in the universe. My aim is to spread my experience in one direction but towards the four corners of the globe for I believe I can add my small stone to the edifice. My creed is to: commitment, honesty and respect for sporting values. One of my dreams is to go on to photography and to be able to capture the invisible."
My experiences
"Thanks to the Handigrimpe events I have met stars of the cinema, music and fashion. One day when I was participating in a filming project a musician asked me to take part in the sound track. In the end after a month of work he pushed me onto the stage and I took part in my first gig. Since then whenever the occasion permits I get on the stage andAjam or juggle with fire."
Major ascents
A stage of the World cup (sport climbing) 2000
The year 2000 marked the beginning of my work for the recognition of handicapped climbers: meeting with the international federations (ICC and UIAA), giving demonstrations with handicapped climbers during the European Championships in 2002 and the world championships in 2003.
Creation of the association Handigrimpe in 2003
The first HandiGrimpe event took place in Gard, with the collaboration of the local club Roc'NPof, the local council of Gard, the management of the local Department de la Jeunesse et sport and the FFME. Those present included the winner of the World cup Jérôme Meyer and the para Olympic medalist at Atlanta, Dominique Andre.
Second Handigrimpe with Patrick Edlingeras guest of honor, 2004
"EVOLUTION TOUR", a tour of European climbing venues with conferences for the development of climbing walls and French ambassadors 2009 "This tour allowed me to climb in a maximum number of venues in the company of some of the best climbers in the world.
Bronze medal (speed climbing) at the first Paraclimbing World Cup in Arco (Italy) 2011
Other information
Press coverage
Grimper magazine , October 2011: "Recherche et handicap" article by Laurent Vigouroux
Films
"An Original Life" and "Singularité": producer Philippe Ribiere
WILD ONE "A history about Philippe Ribiere": producer Breceljnik Jure.